'Crossout' PS4 Release Date: Free-to-play car combat game hitting consoles on May 30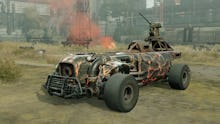 Back in 2006, a PC MMO called Auto Assault tried to mix persistent online worlds with Mad Max-style desert car combat. It lasted a little more than a year before being shut down. The dream died before it could truly live. 
Thanks to Crossout, that idea is getting another shot, this time on consoles as well as PC.
Crossout release date: Coming to consoles and PC on May 30
In Crossout, you can build and heavily customize your own desert destruction machine and take it into multiplayer matches. When it launches at the end of May, it'll be free to play. However, if you want to get in on the action early, you can spend $20 on one of two different founders packs to get early access, according to the PlayStation blog. 
You'll choose from five different factions and go into battle against enemy players. You can get car upgrades via loot drops or craft your own upgrades from salvaged materials. It looks like it has a pretty deep car building system, where you choose from different frames before attaching a cabin and the weapons of your choice. It looks like you can even use tank treads for terrain versatility at the expense of speed.
If you would rather cooperate than fight, you can participate in raids against AI bots to get crafting resources. Overall, it seems like there's plenty to do in Crossout if you're the kind of person who likes post-apocalyptic vehicular mayhem. It's coming to PS4, Xbox One and PC on May 30.
More gaming news, updates, tips and tricks
Check out the latest from Mic, including our list of video games that made fun  of their players, a personal essay about dealing with anxiety through Breath of the Wild, a look at the racist and sexist experiences in esports and a plea for better character customization options for black characters.