'Overwatch' Anniversary Event Start Date: Blizzard confirms celebration update, new skins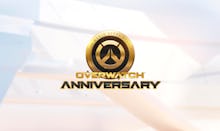 This won't come as much of a shock to those of you who have been closely following Overwatch leaks in recent weeks, but here goes: Blizzard has officially confirmed an upcoming Anniversary event celebrating the game's first birthday. It begins on May 23 and ends June 12.
Overwatch Anniversary event start date confirmed for May 23
The news was announced via the Overwatch Twitter, which released a video celebrating the game's history thus far.
Blizzard has yet to release detailed information about this event — like which characters will get new legendary skins and such — but we'll update you when we know more.
More Overwatch news and updates
For more on Overwatch, check out the rest of what Mic has to offer. Here is an essay about how Efi Oladele was a missed opportunity for Overwatch, a deep dive into the issue of sexual harassment in Overwatch voice chat, an unintentionally hilarious infographic showing the most popular Overwatch characters in each state, a criticism of Blizzard's failures in its design of Symmetra and a dive into a cool trend on Tumblr that converts your most-played heroes into a psychedelic illustration.