Bernie Sanders still hasn't filed his financial disclosures, raising questions about his wealth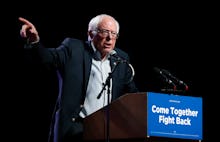 Sen. Bernie Sanders (I-Vt.) has missed the May 15 deadline for disclosing his 2016 finances. Senators in the U.S. are required to file disclosures with the U.S. Senate Select Committee on Ethics on a yearly basis.
Sanders was granted a 20-day extension, while Patrick Leahy (D-Vt.) filed his disclosures on time, according to New Hampshire newspaper Valley News.
Three of Sanders' spokespeople were contacted by phone and email by Valley News. They did not respond to inquiries about why Sanders needed the extension.
The Center for Public Integrity wrote in a 2016 article that Sanders was evading disclosures by working the system during his presidential campaign:
Sanders expertly exploited a system that effectively allowed him to delay, delay, delay — all while he chided Clinton receipt of six-figure paydays for delivering closed-door speeches to officials at investment bank Goldman Sachs and other powerful special interests [...] Voters couldn't definitively know whether Sanders — historically one of the Senate's least wealthy members — suddenly parlayed his political fame into personal profit. Or, for that matter, whether he sustained financial distress.
Burlington College controversy continues
Questions about Sanders' financial practices extend to his wife as well. According to the Hill, multiple reports are emerging that Jane Sanders is under FBI investigation amid accusations of improper financial conduct during her time as president of Burlington College.
VTDigger, an independent, investigative news organization in Vermont under the Vermont Journalism Trust, asked Sanders in April if she had been contacted by the FBI or the U.S. attorney for Vermont amid the investigation into Burlington College. She refused to comment.
Sen. Sanders cut off a local WCAX television interviewer trying to ask if he'd used improper influence with People's United Bank to secure a loan for Burlington College. Sanders said it would be "improper" to discuss the matter and insinuated that the allegations are political in nature.
The college closed in May 2016 under "crushing weight" from its debt, according to an announcement from school officials, as reported by VTDigger.