Title IX suit alleges up to eight Baylor football players drugged and gang-raped a student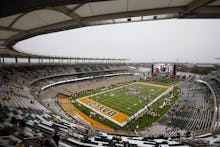 A former Baylor University student has filed a Title IX lawsuit against the school for allegedly discouraging her from reporting her sexual assault, which involved as many as eight football players gang-raping her in 2012.
According to the Waco Tribune Herald, the rape was considered a "bonding experience" for the football team, whose hazing traditions reportedly involved having freshman players bring female classmates to their parties to be drugged and raped. The Title IX lawsuit — Baylor University's seventh in total — also claims that the football players photographed and video recorded two other female students being gang-raped by their teammates, circulating at least one 21-second clip amongst the team.
"These girls affected by this are seeking their day in court," the plaintiff's attorney Muhammad Aziz told the outlet. "Really, what we are seeking to enforce is just a safe education environment for the girls at the school."
In the suit, Jane Doe alleges that when she brought news of her rapes to then-head coach Art Briles he was "unfazed" and shared the details of the assault with her volleyball coach. Later, when he learned the names of the players allegedly involved in the gang-rape, he reportedly said, "Those are some bad dudes ... why was she around those guys?"
Doe said Briles' reported apathy about his players' alleged crimes — coupled with university officials' alleged "effort to dissuade" her from reporting her rape —  left her vulnerable to the football team's further harassment and abuse.
Baylor University axed Briles, who'd coached at Baylor since 2008, in May 2016 following the release of a report detailing university officials' failure to comply with Title IX procedures in other cases.
Doe's suit further claims that Baylor football players harassed both her and her family via text message, burglarized her apartment and then tried to defend the burglary by falsely accusing Doe of stealing their dog.
"There are significant concerns about the tone and culture within Baylor's football program as it relates to accountability for all forms of student athlete misconduct."
In the report that ended Briles' tenure, which was written by external auditors at the firm Pepper Hamilton LLP, the lawyers identified "specific failings" on the part of the football team's leadership, who they said failed to "identify and respond to a pattern of sexual violence by a football player and to a report of dating violence."
The aftermath of the damning report also saw the resignation of Baylor University's athletic director, Ian McCaw, and the demotion of the university's president, Kenneth Starr, the special prosecutor behind the impeachment of President Bill Clinton.
"There are significant concerns about the tone and culture within Baylor's football program as it relates to accountability for all forms of student athlete misconduct," lawyers continued.
According to Deadspin, a lawsuit claims that between 2011 and 2014, at least 31 separate football players committed 52 "acts of rape," five of which involved gang rape. 
In response to the lawsuit, university officials released a statement saying they have been trying to work with Doe's lawyer, Aziz for "many months" in attempts to resolve this latest case.
"As this case proceeds, Baylor maintains its ability to present facts — as available to the university — in response to the allegations contained in the legal filing," the statement said, according to the Herald. 
"The university's response in no way changes Baylor's position that any assault involving members of our campus community is reprehensible and inexcusable. Baylor remains committed to eliminating all forms of sexual and gender-based harassment and discrimination within our campus community."