In 12 seasons of 'The Bachelorette,' these are the 5 couples still together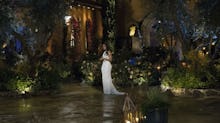 The Bachelorette peddles love, but rarely celebrates it. After 12 seasons of setting up love stories, the franchise has only produced five couples that made it past their respective seasons. Generally, it's more common for Bachelorette couples to realize the whole thing was a sham and they never even liked each other before breaking up two months later. 
Still, there are genuine love stories that seep through the cracks. Keep reading to find out which Bachelorette couples have proven love isn't dead.
Season 12 — JoJo Fletcher
Ever since giving Jordan Rodgers the first impression rose in episode one, JoJo Fletcher shared off-the-charts chemistry with the former NFL quarterback. Their connection was so obvious that hardly anyone believed runner-up Robby Hayes was a threat. Rodgers still lives with Fletcher in her hometown of Dallas.
Season 11 — Kaitlyn Bristowe 
Bristowe commented on her chemistry with Shawn Booth the moment he stepped out of his limo, so it was no surprise when he eventually proposed. After the finale, the happy couple moved in together in Nashville. There's no wedding date yet, but the two have discussed starting a family. 
Season 9 — Desiree Hartsock 
Despite having her heart broken by Brooks Forrester — who quit the show before the finale — Hartsock found love with her last man standing, mortgage broker Chris Siegfried. Siegfried's season-ending proposal grew into something real, and the two actually tied the knot in January 2015 before welcoming a baby boy in October.
Season 7 — Ashley Hebert
Fans waited with bated breath as Hebert and J.P. Rosenbaum held off on marrying for over a year after latter's finale proposal. The two finally got hitched in December 2012 and even aired their nuptials on ABC, which no doubt won The Bachelorette some credibility in the love department — 4 million viewers tuned in to reassure themselves that love is real and forever. Hebert and Rosenbaum live in Miami and welcomed their second child in November.
Season 1 — Trista Rehn
The franchise's first couple was also its first success story. After Bachelor season one runner-up Trista Rehn chose firefighter Ryan Sutter out of 25 men in the Bachelorette's very first season finale in 2003, the franchise witnessed its first-ever Bachelorette proposal. The couple married only 10 months after the show wrapped and are still together today. Sutter and Rehn even have two children together, the adorably named Maxwell and Blakesley. To this day, not even a couple from O.G. show The Bachelor  has lasted as long as Rehn and Sutter.
Season 13 of The Bachelorette — featuring the franchise's first-ever black lead — premieres Monday.  
Mic has ongoing Bachelorette coverage. Check out our main Bachelorette hub here.