What is the Palme d'Or? 3 things to know about the prestigious Cannes Film Festival award.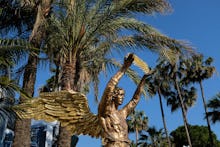 The 70th edition of Cannes Film Festival kicks off in Cannes, France, on Wednesday, where the Palme d'Or, one of the most prestigious film industry awards, will be given to a talented director at the annual international celebration.
In 2016, English director Ken Loach won the Palme d'Or for I, Daniel Blake. This was his second time receiving the high honor, having also won it a decade ago for The Wind that Shakes the Barley.
In 2017, a new set of directors are hoping to be recognized with the Palme d'Or. Here are four more interesting facts to know about the prestigious Cannes Film Festival award.
1. The first Palme d'Or recipient
Before the Palme d'Or, the Cannes Film Festival gave the "Grand Prix of the International Film Festival" award to the top director.
In 1954, the festival board of directors borrowed the Palme d'Or from the City of Cannes' coat of arms and called for artists to submit potential designs for the award. Jewelry artist Lucienne Lazon's submission was chosen.
In 1955, American Delbert Mann won the first Palme d'Or for his film Marty.
The Grand Prix award made a return from 1964 to 1974, but since 1975, the Palme d'Or has been the mainstay trophy for the best directorial effort of the year.
2. The first woman to receive the Palme d'Or
In 1993, New Zealand director Jane Campion became the first woman to win the Palme d'Or, for her film The Piano. She remains the only female recipient of the award to this day.
3. The Palme d'Or 70th anniversary redesign
Since 1975, the Palme d'Or has been redesigned several times, according to the Cannes site. For the 70th anniversary, Cannes is awarding a director a specially redesigned Palme d'Or that will feature diamonds encrusted into the palm.
Mic has ongoing Cannes coverage. Please follow our main Cannes hub here.