'Overwatch' Free Weekend: Here's when you can play for free on PS4, Xbox One and PC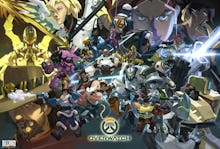 If you've been looking longingly at your friend's copy of Blizzard's multiplayer shooter Overwatch, but haven't yet decided whether you should take the plunge, we've got good news: You'll have the chance to try the game for free very soon.
Even better news? The Overwatch free weekend will overlap with its new seasonal event, Anniversary. Here's what we know.
Overwatch free weekend: Coming to you the end of May
At a press event in New York City, Blizzard gave Mic and other media outlets a sneak preview of what's upcoming in the world of Overwatch, including another free weekend for new players that runs from May 26 to May 29.
This will give players a chance to not only try out the base game, but also experience the new seasonal event, Overwatch Anniversary, which begins May 23 and concludes June 12.
More information on the Overwatch Anniversary event is expected throughout the week, so keep checking Mic for more updates.
More Overwatch news and updates
For more on Overwatch, check out the rest of what Mic has to offer. Here is an essay about how Efi Oladele was a missed opportunity for Overwatch, a deep dive into the issue of sexual harassment in Overwatch voice chat, an unintentionally hilarious infographic showing the most popular Overwatch characters in each state, a criticism of Blizzard's failures in its design of Symmetra and a dive into a cool trend on Tumblr that converts your most-played heroes into a psychedelic illustration.