Google Smart Reply: Gmail will use artificial intelligence to let you answer emails faster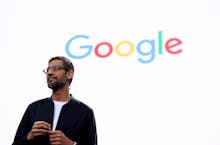 Google CEO Sundar Pichai announced at Google's I/O event on Wednesday that the company is releasing a new version of Smart Reply for Gmail — a service that uses artificial intelligence to make replying to emails a cinch. 
The feature — originally rolled out on its Inbox email app in 2015 and currently also available on its Allo messaging app — uses machine learning to predict responses. This technology is now coming to Gmail on iOS and Android devices.
"Inspired by how humans understand languages and concepts, we turned to hierarchical models of language, an approach that uses hierarchies of modules, each of which can learn, remember and recognize a sequential pattern," two Google researchers — one of whom is prominent futurist Ray Kurzweil, who is also Google Research's engineering director — wrote in a blog post.
How does it work? 
First, Smart Reply performs a cursory scan of an incoming email. Neural networks that are trained to analyze messages convert the contents of the email into numerical codes that symbolize their meaning. Based on the code, the feature quickly suggests three basic responses from a database of replies. Users can modify the response and send a reply more efficiently.
What's the point of it? 
When Google first released this feature, it said the point was to streamline responding to emails that require a short, brief reply and to get the ball rolling for responses that need more thought.
"For those emails that only need a quick response, it can take care of the thinking and save precious time spent typing," a Google software engineer wrote in post. "And for those emails that require a bit more thought, it gives you a jump start so you can respond right away."
Will it sound automated? 
The use of machine learning is especially important, since this is what will help the automated replies to sound like you. After all, quick automated responses can sometimes come off blunt or lacking a personal touch. Over time, the suggestions generated by the feature will, in theory, carry your voice and writing style.
Whether or not users welcome this update remains yet to be determined. On one hand, Google claims 12% of Inbox replies use smart replies, suggesting that the feature is successful and being utilized. On the other hand, the idea that a neural network has access to private emails and is scanning them can be a troubling concept to many. (Google says human employees won't have access to emails.)
At its launch, the feature will be available in English only, followed by Spanish "in the coming weeks." Other languages will be released thereafter.