Drinking out of a lightbulb is the hottest new trend — here are 13 places to try it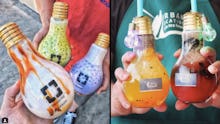 The bright idea of using lightbulbs as drinking vessels is sweeping the nation. The trend originally hails from Asia — the first appearance of the lightbulb cup on YouTube is from April 2016 at South Korea's Hyundai Department store, before it expanded to Taiwan and beyond. Don't worry, this isn't an eco-conscious way to recycle a real lightbulb. These glass and plastic drinking vessels are made specifically for this purpose, and can be purchased on Amazon ($30 for 10 plastic 12 ounce drinking lightbulbs) or restaurant suppliers.
Skeptical of this quirky and seemingly pointless trend, I paid $2 to upgrade my iced matcha latte at Teapsy in my New York City neighborhood to see what the reusable plastic lightbulb cup was all about. Did it make the drink better? Not really, but it did give it that same appeal that the iconic green straw and mermaid-emblazoned cup gives a Starbucks coffee. It didn't improve the actual drinking experience, either. If anything, holding the bulky bulbous cup was more awkward than a traditional disposable latte cup. But given its widespread appeal, the lightbulb is now a certifiable, Instagram-likes-guaranteed drinking vessel. 
At San Diego's Bice, bartender Alessandro Mereu presents his Old Fashioned, served neat, in a lightbulb. 
"I serve the lightbulb on top of dry ice in a cigar box instead of with ice in the glass," he explained. "The cocktail gets cold without diluting the drink: The longer the guest leaves the drink on dry ice, the colder it gets. That allows each guests to have a drink at their preferred coldness." 
Thirsting for a boozy or boba-filled bulb? Head to one of these lightbulb-slinging drink shops around the country. Think of these as the best new novelty cup — unless you're at a bar, you'll also likely leave with a fun keepsake. 
Already known for attention-getting treats like an Oreo-topped cheesecake served in a ceramic planter and a s'mores cookie in a skillet, Spot has been serving bubble tea and Thai iced tea out of lightbulbs since last fall. 
ROKC, New York, New York
Beyond lightbulbs, this Harlem cocktail bar and ramen restaurant serves drinks in nests, seashells, ceramic skulls and other untraditional vessels. The Flower, pictured here, is made with Japanese barley vodka, cranberry juice, lavender and elderflower liqueur. 
This bubble tea, smoothie and snack café serves reusable plastic lightbulbs, filled with the cold tea drink of your choice, in Astoria, Queens. Take your lightbulb home as a souvenir, clean it out and bring it back to the shop for 25 cents off your next order. 
This boba spot is in Edison: How could they not serve lightbulbs? Bubble milk tea and iced tea are also available in regular cups, should you prefer something more transportable. 
Tbaar, Chicago, Illinois
Adding yet another element to the lightbulb craze, Chicago's TBaar offers light-up and glow-in-the-dark lightbulb drinks. 
Cannon, Seattle, Washington
A little greenery adds a Pacific Northwest vibe to the Bright Idea cocktail, made with tequila, fresh watermelon and grenadine for some extra brightness. Other less-traditional cups at Cannon include a copper gnome, a glass bird and a pipe-like vessel.
This lightbulb drink comes with its own mini lightbulb keychain. Urban Location adds pudding, jelly, boba and chia seeds to teas for a layered beverage you can see through the translucent lightbulb. 
Snow Monster, Los Angeles, California 
If for some reason you don't want your iced tea or matcha in a lightbulb, you can also get an adorable mason jar at this tea shop and fro-yo joint. 
Square Bar Cafe, San Diego and San Jose, California
This California boba cafe pretty much designed for Instagrammers, with coffee and tea drinks topped with ice cream sandwiches and crepe cakes. But why go for a dessert-topped glass when you can drink out of a takeaway lightbulb bearing the cafe's logo? 
Bice, San Diego, California
Only available on Fridays and Saturdays, this Italian restaurant's special tobacco-infused Old Fashioned is made table side. The drink is served in a lightbulb glass packaged in a cigar box smoking with dry ice. While bartender Alessandro Mereu didn't create the lightbulb cocktail with social media in mind, he's noticed customers love snapping and sharing photos of servers creating the drink. 
Thai rolled ice cream, milk foam-topped iced teas and indulgent sundaes are all on the menu here, but if your sights are set on a lightbulb, you'll have to go the cold tea route.
One of Houston's premier bubble tea spots, Teaholic, has its own spin on the beloved Taiwanese drink. The beloved "two-in-one cup" menu option gives customers two flavors of bubble tea in separated compartments, served in a single cup. Then again, you could also double fist lightbulb teas. 
Mr. Tea, Las Vegas, Nevada
Vegas' cutest boba is served at Mr. Tea. The menu has a rainbow of organic milk teas — from red Thai tea to green matcha to purple creations — served in adorable, illustrated lightbulbs.