20 years of "The Rain": 4 female emcees reflect on Missy Elliot's iconic debut single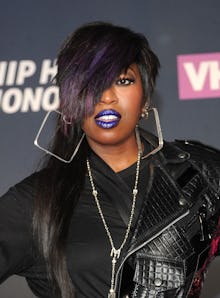 Missy Elliott's debut single, 1997's "The Rain," arrived two months after the murder of the Notorious B.I.G. If you tuned into a hip-hop radio station at the time, you likely heard Biggie Smalls' "Hypnotize"  in heavy rotation — or maybe Mark Morrison's "Return of the Mack," a latter-day win for the ailing New Jack Swing genre. Outkast had carved their own lane, combining outer space-inspired sonics and moody boom bap on the previous year's ATLiens. What you probably weren't prepared for was the marriage of Elliott's cool swaying vocals and the eerie, sluggish beat of "The Rain." This was the start of her inimitable Supa Dupa Fly career. Hip-hop hasn't been the same since.
"The Rain" turns 20 on May 20, but put that song on in 2017 and you'll hear the same unhurried yet spellbinding voice that whisked listeners away two decades ago. Elliott delivered a relaxed flow and sticky wordplay, peeling off lines about inhaling indo and riding to the beach in her jeep. She was all about the camaraderie, name dropping other black female artists like Yo Yo, Lauryn Hill, and Coko from SWV. At one point, the Virginia emcee breaks from spitting lyrics to make her voice sound like a vinyl being scratched. "Icky-icky-icky-icky-icky-icky-icky," she screeches. Producer Timbaland sampled the first few seconds of Ann Peebles' soul-stirring 1973 tune "I Can't Stand the Rain," then added on rumbles of thunder and heavier bass to fill out the atmosphere.
To create the song's futuristic music video, which also dropped in 1997, director Hype Williams used a fish-eye lens to achieve its warped look. And when Elliott stepped out in her instantly iconic outfit — a blown-up black trash bag— she let the world know that she could make anything look fresh. 
"The outfit was a symbol of power," Elliott said in May's issue of Elle. "I loved the idea of feeling like a hip-hop Michelin woman." The trash bag's influence is still felt today — it inspired Solange's look at 2017's Met Gala. 
Every aspect of Elliott's aesthetic was deeply thought out — her sleek finger waves and colorful streetwear, her infectious choreography and affinity for surreal imagery. She was inspired by her desire to show "where black folks are from, and where we're going," she told the The New Yorker in 1997. "I don't make music or videos for 1997 — I do it for the year 2000." 
Her bold moves were a symbolic middle finger to those who wanted to erase her because she didn't fit into limited beauty standards. Elliott fought to bring the black female imagination to life for herself and others like Ciara, Aaliyah, Mary J. Blige and Beyoncé, only a sample of artists she wrote and produced for. She sang and rapped unapologetically about sex and her untouchable flyness, and produced her own music under her very own Goldmind label. Elliott was unbossed and set the blueprint for future artists — and it all started with "The Rain."
To commemorate the 20th anniversary of "The Rain," Mic asked four new-school women in hip-hop to reflect on the song's influence. Below, rappers Rapsody, Latasha Alcindor, Leaf, and Sharaya J share their thoughts.
Rapsody 
North Carolina's own Raspody — who's busy finishing the follow-up to 2012's The Idea of Beautiful — describes "The Rain" as sounding like "nothing I heard before":
Her using "I Can't Stand the Rain" made it familiar too because that's a well-known sample that I know my parents played and I grew up on. It was edgy. It was very futuristic. It was a very different sound than what I was used to hearing growing up. I used to listen to a lot of Northeast — Philly, New York, New Jersey — [hip-hop]. You know, that boom bap. And then you had this. It was like nothing I heard before or seen before. That's what drew me to it more.
Latasha Alcindor
Brooklyn rapper Latasha Alcindor — who will drop a new EP called Teen Nite at Empire on June 2 — says she thought Missy was an "alien" when she first heard "The Rain":
I think the first time I heard it was on Hot 97. And I remember hearing the beat and as a kid, being like, "What is this?" I had never heard a woman rap or sound like that before. Mainly what I was hearing was Lil' Kim and Foxy Brown during that time. And Missy came through with a whole new feel. She also gave me TLC vibes but without the TLC, which was dope. And I remember feeling like, "Wow she's saying some really dope things and the sound she brings is kind of alien to everything going on."
Leaf
Brooklyn newcomer Leaf, who is wrapping up her trap-meets-world debut album Trinity, believes "The Rain" was a "pivotal moment" in hip-hop:
I think that song was iconic in hip-hop because it was a pivotal moment where things were changing. The sound was changing. And it will forever be a pinpoint of the sound at that time.
Sharaya J
Elliott's protégé, New Jersey-reared Sharaya J, who released the Dope Product - Vol 1 mixtape in April, prizes Elliott's support for fellow women in music: 
The idea of female emcee camaraderie, that needs to be pulled back. We as women should be supporting each other and hopping on records together. At this time, it's definitely something that's needed in hip-hop and as women we should try to do that. I feel blessed to have had somebody who understood that and was willing to instill that in me stepping into the game.