'The Bachelorette' 2017 cast photos and bios released; meet Rachel Lindsay's season 13 men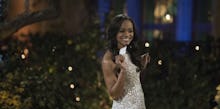 Rachel Lindsay's magical journey to find love on reality TV is about to begin — again.
Former Bachelor contestant Rachel is getting a second chance at love after getting dumped by Nick Viall following their romantic fantasy suite date. While it was sad to see her go, Rachel is throwing her hat back in the dating ring on season 13 of The Bachelorette. 
Check out the cast photos and learn a little bit more about her single suitors:
Josiah is a 28-year-old prosecuting attorney and was once catfished.
Adam is a 27-year-old real estate agent who is apparently already embarrassed to be on the ABC dating show. In his bio he says that his most embarrassing moment is when he told his mom that he was going to be appearing on The Bachelorette.
Bonus: The most "romantic present" he's ever received was a "threesome" on his birthday.
Dean is a 26-year-old startup recruiter who has some beautiful words to say about marriage:
I think marriage is an institutionalized sham derived from religious beliefs. That said, when I get married, it's a life-long commitment.
Peter is a 31-year-old business owner who previously dabbled in modeling.
Jedidiah is a 35-year-old ER physician who may have previously owned a direwolf.
Bryce is a 30-year-old firefighter and he wants you to know that he's saved someone's life before.
Michael is a 26-year-old former professional basketball player (in Bulgaria).
Lee is a 30-year-old singer/songwriter.
Lucas is a 30-year-old "Whaboom." According to Bachelorette host Chris Harrison, a "Whaboom" is a "lifestyle." Sure, sounds good.
Matthew is a 32-year-old construction sales rep.
Fred is a 27-year-old executive assistant and has admittedly gotten aroused at work before.
Bryan is a 37-year-old chiropractor who sounds like he's ready to start a family.
Brady
Brady is 29-year-old male model who is most definitely not using this stint on reality TV to advance his career. He may also be a Lululemon spokesperson. This is what he had to say about the "most romantic present" he's ever received:
Lululemon sweatpants. She knew the way to my heart is cuddling on the couch in well-made, high-quality sweats.
Robert is a 30-year-old law student.
Mohit is a 26-year-old product manager and has somehow worked Tabasco sauce into his bedroom activities. That's ... hot?
Kenny is a 35-year-old professional wrestler and once "had sex with a wife while her husband watched." Thanks for sharing, Kenny.
Jack is a 32-year-old attorney.
Will is a 28-year-old sales manager.
Anthony is a 26-year-old education software manager.
Milton is a 31-year-old hotel recreation supervisor and is hoping to be "discovered."
Everyone tells me I'm made for TV/movies. Doesn't mean I'm out here hoping for that, but I would like to break into writing or acting.
Jonathan is a 31-year-old "tickle monster." That's all.
Blake K. is a 29-year-old U.S. Marine veteran. According to his bio he admires his "beautiful mother," so he's obviously a keeper.
Jamey is a 32-year-old sales account executive who was once caught masturbating.
Blake E. is a 31-year-old "aspiring drummer." Live your dreams, Blake E.
Eric is a 29-year-old personal trainer.
DeMario is a 30-year-old executive recruiter and he's a big fan of Denzel Washington. But then again, who isn't? Denzel is great. 
Iggy is a 30-year-old consulting firm CEO and "once got a boner during a board meeting." CE ... Oh?
Grant is a 29-year-old emergency medicine physician who got accepted to med school a year early, likes Playboy magazine and once had to "defecate in a cut open 2-liter coke bottle in the back of a tour bus."
Kenneth, who also goes by Diggy, is a 31-year-old senior inventory analyst who was once "stranded on a toilet for hours in fifth grade." Was there no toilet paper? Did he have a leg cramp and couldn't get up? Bachelor Nation needs answers.
Alex is a 28-year-old information systems supervisor. While he's "adaptable, logical and fun," he can also be "selfish, unemotional and unapologetic." Let's see how that goes in The Bachelorette mansion.
Mic has ongoing Bachelorette coverage. Check out our main Bachelorette hub here.