Donald Trump is already jeopardizing intelligence cooperation with America's closest allies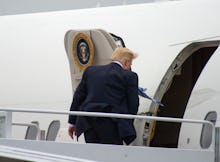 The Trump administration is working to contain the fallout from Monday's bombshell report that President Donald Trump revealed highly classified information to Russian diplomats in an Oval Office meeting last week. But among United States allies, damage has already been done.
Allies are now looking at Trump's Washington with a wary eye. Germany's former minister of defense, for instance, said the incident has taken on a toll on the U.S.-Germany intelligence sharing relationship.
"It's unbelievable," Karl-Theodor zu Guttenberg said during a phone interview. "There is a concern that due to Trump's lack of knowledge, well-crafted structures could be at risk."
Germany is one of the United States' closest allies and a key partner for the American intelligence community in Europe. According to Guttenberg, who served as Germany's minister of defense from 2009 until 2011 and remains well-connected to his former colleagues, Monday's revelation will have an impact on that relationship.
The two countries' intelligence relationship has come under scrutiny in recent years in light of alleged eavesdropping by the National Security Agency on Germany under President Barack Obama's administration in 2013. Nonetheless, German Chancellor Angela Merkel recently emphasized the importance of U.S.-Germany intelligence cooperation, saying before a parliamentary committee in February, "I believe we rely on this cooperation." Merkel continued, "I'd like to say clearly that also under the new U.S. administration, the intelligence co-operation will continue."
But Guttenberg said German officials are likely to become more guarded about sharing sensitive intelligence with the U.S.
"There is no indication that they will abandon the exchange of intelligence for the forthcoming future," Guttenberg said. "But all were quite clear that they now have to be more cautious because they have the responsibility of safety for their own people."
Guttenberg emphasized that the two countries' intelligence relationship is not at immediate risk, but he noted that there is now a widespread sense of disbelief among German officials that could weaken the relationship — particularly if an incident like last week's Oval Office flap were to happen again.
"It's not code red, but they see it with a lot of concern," Guttenberg said of the United States' allies. "Germany, and many other allies, rely on the quality of U.S. intelligence. But if things like this develop into a habit, that could change the equation."
"Hopefully, this will be a learning experience for someone who obviously still has to learn about how the whole security network and foreign policy community thinks," Guttenberg added.
Trump's decision to share code-word information about the Islamic State with Russian officials is also having ripple effects with another close U.S. ally: Israel. On Tuesday, the New York Times reported that it was Israel that had provided at least some of the classified intelligence that Trump disclosed to the Russians last week during an Oval Office meeting with the Russian foreign minister and ambassador. According to ABC News, the life of an Israeli spy placed inside ISIS may be at risk as a result.
Danny Yatom, Israel's former head of Mossad, told CNN the incident could be a "catastrophe" and said, "If we will assess that our sources of intelligence are in danger due to the way it will be handled by the United States, then we will have to keep the very sensitive information close to our chests."
Meanwhile, Trump is gearing up for his first international trip, a five-country foreign tour that will see the president stopping in Israel, Saudi Arabia, the Vatican, Belgium and Italy.
The administration hoped the trip would serve as a historic moment in Trump's young presidency. However, Monday's bombshell — alongside the news that Trump asked former FBI Director James Comey to drop the agency's investigation into former national security adviser Michael Flynn — has cast a dark cloud over Trump's foreign tour.
During his trip, Trump is scheduled to attend NATO meetings in Brussels, as well as a gathering of the G7 alliance in Sicily. How these two scandals will color those interactions remains to be seen.
For their part, according to Guttenberg, Germany and other European countries are preparing for absolutely anything during those meetings.
"The only expectation is the unexpected," Guttenberg said. "They are preparing for things that are hard to prepare for, because currently, you never know what the daily mood of this president will create."