3 easy ways to get free stuff sent to you every week of the year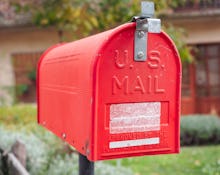 Scoring free stuff can feel like a windfall if you're on a tight budget or just like getting cool stuff in the mail without paying a dime. You've probably seen websites offering you no-cost items, and while the deals may seem attractive, you may be wary about the possibility of giving out your email address and getting nothing but a bunch of spam in your inbox in return.
Being skeptical is smart. Never give out sensitive information like your credit card or bank account number in exchange for "freebies."  But you don't have to shy away from every offer. There are lots of ways to score free stuff — delivered right to your home — if you know where to look and take a little time searching for freebies. 
While not all freebies are worth your effort, and you usually have to wait a few weeks before your freebies start pouting in, you definitely can score lots of samples, coupons and other $0 cost deals for things you actually want. Here's some tips to get you started:
1. Become a product tester
One of the best ways to get freebies that are actually worth your while is to sign up for programs that you let you test — or talk up  — products. 
BzzAgent allows you to sign up for free products if you share your opinions. I signed up in 2006 and scored pretty cool stuff over the years, including a free $125 Sonicare toothbrush. Recent freebies available include V8 juice, Bella Dog food and Nescafe Caramel Lattes. You get freebies by being invited to "campaigns," and you have to do stuff like write reviews, post about the product to social media and tell friends about the product. The more active you are, the more "campaigns" you'll be invited to, the Balance explained.  
Other programs where you can get free products include Influenster, PINCHMe and L'Oreal's consumer testing program. The L'Oreal program, for example, is open to anyone over 18 and lets you test everything from cosmetics to hair color, either at home or at its two testing sites in New Jersey and Ohio.
Not everyone will qualify for every freebie — but if you do get picked to try out products, you can get stuff that is more valuable than the usual freebies available online.  
2. Reach out to product manufacturers 
Another way to get free deals that may actually be worth it is by sending feedback to manufacturers. If you had a bad or good experience with their products, let them know. This is a clever shopping trick that pays off big, as 10 out of 26 companies Thrillist wrote to sent coupons for free stuff, including Chipotle, Trader Joe's and Starbucks. 
If you're going to write to manufacturers, be honest with your feedback and don't send form letters. And, if you have a funny experience with a product, you may also try tweeting about it. One college kid who got a Kit-Kat stolen ended up with 6,500 free bars filling his car after Hershey saw his viral tweet, according to USA Today. Here's the tweet:
3. Stalk the freebies forums or get the deals delivered to your inbox
For a more sure-fire way to get freebies — albeit less valuable ones — you can fill out forms requesting free samples. Money Saving Mom keeps a constantly updated list of freebies on her website that you can request by completing forms, as well as a newsletter that sends you freebie alerts. You can also use the Slickdeals Freebies Forum to find free digital products, free magazines and other free items for completing surveys. 
Examples of some freebies you could have recently scored from these sources include laundry soda, small bottles of Nioxin shampoo and conditioner, a personalized Disney family decal and free ebooks. To save time requesting deals, store your mailing info on your browser's automatic form filler so you don't have to retype it every time you want a no-cost item. 
It's also smart to create a dedicated email address for all the junk mail you're likely to get — "the main reason [the manufacturers] are usually offering a freebie or coupon is so they'll get your email address," Money Saving Mom explains — and avoid giving out your phone number.
Sign up for The Payoff — your weekly crash course on how to live your best financial life. Additionally, for all your burning money questions, check out Mic's credit, savings, career, investing and health care hubs for more information — that pays off.