Rep. Joe Kennedy III on Trump-Russia: "A crime may have in fact been committed"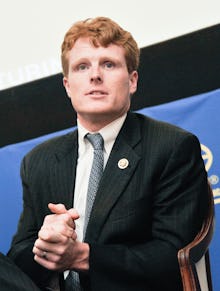 WASHINGTON — The onslaught of stunning reports about President Donald Trump might culminate in the conclusion that "a crime may have in fact been committed," Rep. Joseph Kennedy III (D-Mass.) said in an interview Wednesday.
"I think things have changed a lot in the last 24 hours here in Washington," the Massachusetts Democrat told Mic during a chat at his Capitol Hill office. "From my conversations with Republicans and some Democratic colleagues, the mood has undoubtedly shifted."
That, he said, is thanks to the deluge of "revelations and the media reports" on everything from memos kept by ousted FBI Director James Comey, the president's alleged request for an oath of loyalty and for a "pass for" Michael Flynn, the former Trump national security adviser. 
All in all, Kennedy said, "It's an extraordinarily troubling series of events that even my Republican colleagues will concede that — if true, and if these facts laid out as they have been reported — I think it becomes awfully hard to deny the fact that there's certainly evidence there that a crime may have in fact been committed."
Republican lawmakers have not given up on Trump en masse, or at least not publicly.
But, as widely reported, there is an increasing trend toward even leaders like House Speaker Paul Ryan (R-Wis.) advocating for testimony from Comey. Democrats, for their part, have called for an independent probe into whether Russia attempted to meddle in the outcome of the 2016 presidential election. 
Of his GOP counterparts, Kennedy said, "In my conversations with many of them at this point, the question has been, 'How do we get to ensure that all the facts have come out in a way that the American public has confidence in?'"
Conceding that nothing was assured, Kennedy added, "I expect that you'll see Director Comey come testify before Congress."