'The Bachelorette' 2017 cast's best occupations, job titles and whatever a "whaboom" is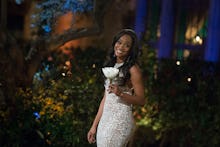 The wacky suitor job titles are a cornerstone of The Bachelorette universe at this point. Who will be the erectile dysfunction expert? Who will be labeled merely "hipster," with no other information? It's little wonder that ABC would want to capitalize on the phenomenon, revealing via a Facebook Live broadcast the men who will be vying for Bachelorette star Rachel Lindsay's heart as the show resumes Monday.
Shockingly, the titles were relatively tame this year, with the casting team clearly stepping up for accomplished attorney Lindsay. But naturally, there were still a couple of absurd occupations that host Chris Harrison couldn't help but poke fun at during the broadcast. Here are the six wackiest.
Blake E.
Blake E. is an aspiring drummer. Musicians are sexy! Aspiring musicians are less so. Over-30 aspiring musicians, as Harrison noted, might want to stop aspiring and move along.
Brady
Brady is identified as a "male model." Why can't he just be called a "model"? Who's to say!
Dean
There are a lot of recruiters this season, which is a bit peculiar. But none is more so than Dean, who specifies that he's a "startup recruiter." Really getting into the nitty-gritty there, Dean.
Jonathan
To his credit, Harrison actually got into the silliness of some of these titles here. It's not necessarily an occupation, he noted, it's his thing. "When we have some fun with these labels, it's not necessarily what they are, it's who they are." And apparently, Jonathan proves himself to be true to his title during the premiere.
Milton
Like Dean, Milton winds up on this list for getting a bit too specific. Just say you work at a hotel, Milton! "Hotel recreation supervisor" only begs the question of what on earth that means.
Lucas
Lucas describes himself as a "whaboom." Or just generally as "whaboom," maybe? It's unclear; Harrison said whaboom is "a noun, it's a verb, it's an adverb." Whaboom, indeed. (We think.)
The Bachelorette premieres Monday at 9 p.m. Eastern.
Mic has ongoing coverage of The Bachelorette. Follow our main Bachelorette hub.