A CNN reporter says a State Department official demanded she disclose her sources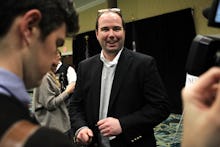 A CNN reporter said Wednesday that a State Department communications officer threatened to cut off her access to the department and demanded she disclose her sources. The accusations came after reports that President Donald Trump had shared highly classified information with Russian officials.  
In a Facebook post Wednesday titled "This is how your government responds to unfavorable news coverage," Michelle Kosinski, CNN's senior diplomatic correspondent, recounted a conversation she had with State Department communications adviser R.C. Hammond on Monday night. At the time, Kosinski was reporting on the State Department's response to Trump's disclosure to the Russians.
"He kicked off the conservation with a venomously irate, 'What the hell are you doing??!!'" Kosinski wrote in the Facebook post detailing the conversation. "Followed up with full-on DEMANDS — over and over, and over again — to tell him who my sources were. He kept pushing, as if he thought that this was ample reason. Then, 'Why won't you tell me who they are?' he bellowed repeatedly, again demanding that I at least tell him what jobs they held at State, or in what areas." 
"I had to explain to him that wasn't how it worked," Kosinski added. 
Kosinski said Hammond told her "that he would make sure NO ONE — no one — at the department would speak to me, EVER AGAIN." 
Hammond has built a reputation for his contentious relationship with the press. In 2012, while serving as the national spokesman and press secretary for Newt Gingrich's presidential campaign, Hammond left the national press corps in the dark about a surprise press conference; limited their access to Gingrich; refused to answer questions from some reporters; threatened to block access to the national press corps in retaliation for negative stories; and once threatened journalists with not holding a press conference. 
Hammond joined the Trump transition team in December to help shepherd Marine Corps Gen. James Mattis through the confirmation process required for him to become defense secretary. Later, Hammond was assigned to the State Department to work for Secretary of State Rex Tillerson, who has established a cold relationship with the press. 
Kosinski said in the post that she pressed Hammond on why he did not share information with her or respond to emails. Hammond, she said, responded by telling her he didn't think reporters were "smart enough" for the information. 
"So when you wonder why it seems information might be a bit — ahem — lacking, contradictory or confusing coming from you own government, just recall the immortal words of RC Hammond: 'WE don't think you're SMART ENOUGH to HANDLE our information!!!!" she wrote. "And that should pretty much explain it."
The State Department did not immediately respond to a request for comment about the matter or to confirm the details of the conversation. A CNN spokesperson declined to comment further.