Rep. Eric Swalwell on the growing Trump Russia turmoil: "We are not powerless"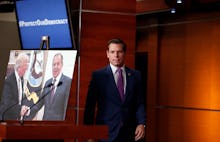 WASHINGTON — President Donald Trump may be "unfocused" and obstructionist, but that doesn't leave the public helpless, a California congressman said in an interview Wednesday. 
"We are not powerless," Rep. Eric Swalwell, the ranking member of the CIA Subcommittee of the House Committee on Intelligence, said. "People should expect their representatives to want to understand what Russia did, and make reforms so that we never see something like this again," 
Swalwell, 36, represents California's 15th Congressional District. A member of the House Judiciary Committee, he also founded and chairs the Future Forum, a gathering of young lawmakers.
As a member of the Republican-controlled chamber, Swalwell has been working with Maryland Rep. Elijah Cummings to launch an independent Russia investigatory panel similar to the 9/11 Commission.
Swalwell spoke to Mic just before news broke Wednesday of Robert Mueller's appointment as special counsel in charge of examining possible ties between Russia and the Trump campaign.
"This is only half of the solution," he said in a written statement on the appointment. "As Mueller oversees an investigation of past crimes, we need a bipartisan-appointed, independent commission to investigate what happened, make a credible public report, and come up with reforms to prevent future crimes."
Swalwell is hoping to pull more members of the GOP to his side as the political temperature surrounding the White House rises. As far as talk of a Trump impeachment, though, Swalwell said it's too early to make that call.
"It's too early for any other 'I' words at this point," he said. "We really need to have a fair investigation — one that follows the facts and follows the evidence and then go from there. But right now, this president continues to impede our ability to do that."
In a separate interview this week, House Democratic Caucus Chairman Joseph Crowley of New York said Trump has shown an inability to govern and a willingness to abuse his power.
"It may very well be more than that — and that's what I'm very, very concerned about," Crowley said.