Department of Justice appoints special counsel in Trump-Russia investigation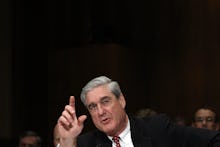 The Department of Justice announced Wednesday evening it would appoint former FBI Director Robert Mueller to be special counsel to oversee the investigation into potential ties between the Trump campaign and the Russian government.
The order, which was issued by Deputy Attorney General Rod Rosenstein, authorized Mueller to investigate "any links and/or coordination between the Russian government and individuals associated with the campaign of President Donald Trump."
The White House released a statement from Trump, who denied any collusion between his campaign and foreign entities. "As I have stated many times, a thorough investigation will confirm what we already know — there was no collusion between my campaign and any foreign entity," the statement reads. "I look forward to this matter concluding quickly. In the meantime, I will never stop fighting for the people and the issues that matter most to the future of our country."
The news comes one day after the New York Times reported that President Donald Trump allegedly asked former FBI Director James Comey to kill the bureau's investigation into former national security adviser Mike Flynn.
NBC News reported that, under Mueller, both Flynn and former Trump campaign chief Paul Manafort will be the subjects of a criminal investigation. Lawyers for both Flynn and Manafort told NBC News that their clients did nothing wrong.
Rosenstein gave the order as the acting attorney general because Trump's attorney general, Jeff Sessions, recused himself from investigating the Trump campaign's links to Russia. Sessions' recusal came after it was revealed that, during his confirmations, he misled the Senate by falsely claiming he hadn't met with Russian officials. In fact, Sessions, who worked on Trump's campaign, had met with Russia's ambassador to the U.S.
ABC News' Jonathan Karl reported that the White House did not get early warning, but the same 30-minute lead time on the story that was given to the media.
Many Democrats in Washington have been calling for the attorney general's office to appoint a special prosecutor for months, but those calls became much louder after the Times report on Tuesday, with at least one Republican also calling for a special prosecutor and another mulling the idea of impeachment.
May 17, 2017 8:09 p.m.: This story has been updated.