'Arms' character roster, Global Testpunch beta dates for Nintendo Switch and more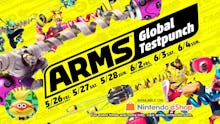 The Arms release date on Switch won't hit until mid-June, but that hasn't stopped the Nintendo from telling us more about the upcoming game. The company's May 2017 Nintendo Direct divulged the entire Arms character list, including Spring Man, Ribbon Girl and more. New Arms character additions like Helix and Twintelle were revealed in addition to the ones we already knew, along with an updated list of multiplayer modes. Check out everything that was introduced below.
Arms Characters on Nintendo Switch: Twintelle and Kid Cobra join Ribbon Girl and Spring Man
The Nintendo Direct announcement (which can be watched in full here) reacquainted us with characters like Ribbon Girl, but it also brought unannounced fighters to the roster. Along with the new additions, Nintendo spilled the details regarding the three arms each character brings to the table. 
Here's the full list:
Spring Man: Toaster, Boomerang and Tribolt arms 
Mechanica: Revolver, Whammer and Homie arms
Ninjara: Chakram, Buff and Triblast arms
Master Mummy: Megaton, Retorcher and Phoenix arms
Kid Cobra:  Slamamander, Hydra and Coolerang arms 
Ribbon Girl: Sparky, Popper and Slapamander arms
Min Min: Dragon, Megawatt and Ramram arms
Helix:  Blorb, Ice Dragon and Guardian arms
Byte and Barq: Seekie, Cracker and Bubb arms
Twintelle: Chilla, Parasol and Thunderbird arms
In addition to these Arms characters, the developers of the game will continue to bring new fighters, stages and arms to use after the game's release with subsequent updates.
Arms Strategy: Nintendo reveals how to beat your friends
Along with delving into each fighter's artillery, the Nintendo Direct revealed the options of light, medium and heavy arms. The weight of a character's arms can affect their momentum and how well they block incoming attacks. For example, light arms have a tough time defending against heavy arms.
Each arm your character uses also comes with one of seven attributes: Fire, Electric, Wind, Ice, Stun, Explosion or Blind. Making sure both of your arms offer different attributes will help you in battle.
Arms multiplayer modes and Global Testpunch beta dates
Arms will offer no shortage of ways to play with others both in person and online. Local multiplayer lets you fight against up to eight other Arms players who own the game and their own Switch. Playing online, however, lets you engage in modes like Hoops, V-Ball, Team Fight and more.
Before all that, the global Arms beta will let you play ahead of the official release. Dubbed the Arms Global Testpunch, the trial period is highly similar to Splatoon's testfire. May 26 (North America-only), May 27, May 28, June 2 (North America-only), June 3, and June 4.
More Nintendo news and coverage
Looking for more Nintendo Switch news? Check out how blind gamers are using the Nintendo Switch and why you can't get your Mii to look quite like you. Nintendo's left Joy-Con issue turns out to be a hardware problem — here's how to solve it. Find out how to buy a console amid the recent restock. Learn why the Switch cartridges taste so bad. Check out our comparison photos sizing up the Switch to the Wii U GamePad (part one and part two), or find out how to make use of ethernet without the dock and the best way to get alerts when new stock arrives.