The GOP House Majority Leader reportedly said aloud that Trump is on Putin's payroll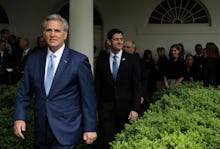 Republican House Majority Leader Kevin McCarthy (R-Calif.) reportedly said in private conversation in June that he thought then-candidate Donald Trump was being paid by the Russians, according to the Washington Post.
The exchange took place on June 15, 2016, with House Speaker Paul Ryan (R-Wis.) and several other Republicans present.
"There's two people I think Putin pays: Rohrabacher and Trump," McCarthy reportedly said, just after emerging from chat with Ukrainian Prime Minister Volodymyr Groysman on the subject of Russian attempts to finance populist candidates in other countries. 
McCarthy was also referring to Rep. Dana Rohrabacher (R-Calif), who has been an outspoken defender of Russia in Congress. According to the Post some lawmakers present began to laugh before McCarthy responded, "Swear to God." 
After McCarthy's comments, Ryan reportedly cut the conversation off abruptly and swore all of the Republicans present to secrecy. "No leaks," Ryan said. "This is how we know we're a real family here."
Former independent presidential candidate Evan McMullin, who was present for the conversation, confirmed the story to the Post. "It's true that Majority Leader McCarthy said that he thought candidate Trump was on the Kremlin's payroll," McMullin said. "Speaker Ryan was concerned about that leaking."
It's not clear from the context whether or not McCarthy truly thought the Russians had paid the Trump campaign or was being sarcastic. But the comments illustrate the degree to which Republicans were aware of the threat posed by Russian election interference as far back as June.
When the Post initially reached out to Ryan and McCarthy for comment, spokespersons for both members of Congress initially denied the conversation ever happened. After being told that a recording of the exchange existed, both spokespersons changed their responses to say that the exchange was simply an attempt at "humor."