Trump's team knew Flynn was under investigation before taking office and hired him anyway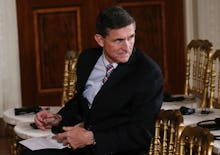 Even before the inauguration, Michael Flynn, Trump's choice to be national security adviser, was under federal investigation for doing undisclosed lobbying for a foreign government. The Trump team knew about it and hired him anyway.
A new report from the New York Times claims that on January 4, Flynn warned officials on the Trump transition that he was under investigation for undisclosed lobbying he had done on behalf of Turkish interests. Flynn first informed the transition team's lawyer Donald F. McGahn II, who is now White House counsel, and later Flynn's lawyers met with lawyers from the transition team to discuss the issue.
It was previously reported by NBC News that former President Barack Obama warned Trump before his inauguration not to hire Flynn but Trump rejected the advice. 
Flynn was fired less than a month into the Trump administration's tenure for having misled the vice president and others about a conversation he had with the Russian ambassador. Former acting-Attorney General Sally Yates recently testified before Congress saying that she had to warned the administration early on that Flynn's lies made him susceptible to foreign blackmail. Yet, the administration failed to act on her warning until weeks later when the Washington Post reported the story to the public.
After Flynn was fired the top Republican and top Democrat on the House oversight committee asked the Trump administration for documents concerning what foreign payments Flynn did and did not disclose when being hired as national security adviser. The White House refused to hand over those documents at the time.
In his short tenure as national security adviser, Flynn made a key decision about the fight against ISIS that lined up with the wishes of the Turkish government according to McClatchy.
NBC News also reported on Wednesday that Flynn and former Trump campaign chief Paul Manafort are part of a criminal investigation under the new auspices of newly appointed special prosecutor Robert Mueller. 
A grand jury in Northern Virginia is currently issuing subpoenas for information and documentation about Flynn's foreign lobbying ties.