Trump breaks 12-hour Twitter silence with tweet calling the Russia probe a "witch hunt"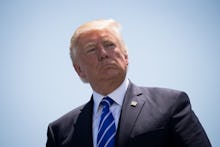 President Donald Trump broke his silence on Twitter Thursday morning, firing off two angry tweets about the special counsel appointed to investigate his campaign's alleged ties to Russia.
In the first one, which again used the wrong spelling of the word "counsel," Trump questioned why "there was never a special councel [sic] appointed" for "all of the illegal acts that took place in the Clinton campaign and Obama Administration."
The president went on to call the Russia investigation the "single greatest witch hunt of a politician in American history!"
Of course, there was no alleged illegal activity in the Clinton campaign. Nor were there any major legal scandals involving former President Barack Obama. 
And his tweet calling the investigation into the alleged Russian ties a "witch hunt" came as even more news broke about his campaign's contacts with Russia.
Reuters reported Thursday morning that the Trump campaign had at least 18 undisclosed contacts with Russian officials during the campaign. 
According to Reuters, six of those calls were between Russian Ambassador Sergei Kislyak and Trump advisers, including fired national security adviser Michael Flynn.
Flynn is under federal criminal investigation into the inquiry over Russia's meddling in the 2016 presidential election, NBC News reported Wednesday. 
Flynn is also under investigation for not disclosing that he was a paid lobbyist for Turkey during the campaign — a fact the Trump transition team knew about before Flynn was hired as Trump's national security adviser, the New York Times reported Wednesday night.