The secret meaning behind Chris Cornell's Soundgarden song "Black Hole Sun"
The song created global fascination — but what is it about?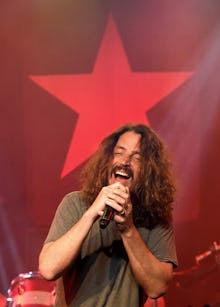 Perhaps the most dynamic vocalist in grunge and one of its most mysterious songwriting talents, Chris Cornell died Wednesday night of unknown causes. He left behind a litany of hits that encompasses the doom-laden alt rock of Temple of the Dog, and the power rock of Audioslave. But no track he ever penned created the same global fascination as Soundgarden's "Black Hole Sun."
Seemingly serene and wistful in its verses, but crushingly overbearing in its riff-heavy choruses, the song was a No. 1 hit on the Billboard rock charts in 1994, a bright spot in a summer during which rock fans were reeling from the sudden death by suicide of Nirvana frontman Kurt Cobain.
What was the inspiration for "Black Hole Sun"?
Cornell claimed he wrote the song to play with lyrics. "Lyrically it's probably the closest to me just playing with words for words' sake, of anything I've written," he once said, according to an interview he gave to Request magazine back in 1996. "I guess it worked for a lot of people who heard it, but I have no idea how you'd begin to take that one literally."
Despite that claim, he's since helped unpack layers of meaning from the disjointed bars he slammed together, all stemming from his fascination with the misheard phrase "Black Hole Sun."
What is the meaning of "Black Hole Sun"?
"I had misheard a news anchor, and I thought he said 'black hole sun,' but he said something else," Cornell once tole Entertainment Weekly. "It created this image in my brain and I thought it would be an amazing song title... That was a title that came before music, so the music was the inspiration that came from the images created by those words."
The pictures he painted are dreary, oppressive: 
Boiling heat, summer stench
The song's twisted music video further illustrates this seemingly hopeless fantasy, revealing the darkness hidden underneath the smiling face of idyllic, white-picket fence American life. By the third verse, Cornell is seeking escape from this seemingly nameless, but inescapable doom: "Hang my head, drown my fear/ Till you all just disappear."
What are the most meaningful lyrics in "Black Hole Sun"?
Much of the song's tension seems to hinge on one lyric: "Times are gone for honest men." Cornell had a lot to say about that line in a 1995 Rolling Stone interview:
It's really difficult for a person to create their own life and their own freedom. It's going to become more and more difficult, and it's going to create more and more disillusioned people who become dishonest and angry and are willing to fuck the next guy to get what they want. There's so much stepping on the backs of other people in our profession. We've been so lucky that we've never had to do that. Part of it was because of our own tenacity, and part of it was because we were lucky.
Part of it also may have been the fact that Chris Cornell had one of the sharpest and most jaw-dropping voices in rock 'n' roll that somehow could make Soundgarden's evil riffs seem sweet. To quote "Black Hole Sun" in honor of a legend: "No one sings like you anymore."
Mic has ongoing music coverage. Check out our main music and culture hub here.