Chris Cornell's final tweet for wife Vicky Karayiannis was of love and praise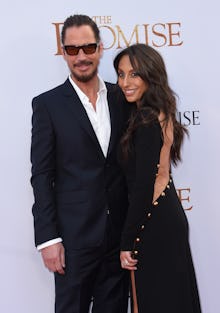 The world learned of the sudden passing of Soundgarden frontman Chris Cornell early Thursday.
Following Soundgarden's sold-out show in Detroit on Wednesday night, Cornell was found dead in his hotel room. Just hours before he was set to perform, Cornell had tweeted his excitement for the set that night.
As the world reacts to the sudden passing of the legendary rocker, the singer leaves behind his wife Vicky Karayiannis and their two children together, Toni and Christopher Nicholas. Days before his death, Cornell had tweeted one final message for his wife.
On Sunday, Cornell wrote an adoring message for Karayiannis on Twitter, sharing his love for her on Mother's Day. In the tweet, Cornell called her "an angel and a lioness" and said she is both the perfect mother and wife.
The two got married in 2004 in Paris. In a 2012 interview with Details, via the Daily Mail, Cornell said he had to go above and beyond to impress her family.  
"When I met my wife Vicky's family, I had to go out of my way to convince them, to show them, that I wasn't anything like their idea of a musician," he admitted. 
The couple started their own foundation together in 2012 called The Chris and Vicky Cornell Foundation. The foundation supports children enduring homelessness, poverty and abuse. 
Mic has ongoing music coverage. Please follow our main music hub here.