Snoop Dogg's 'Neva Left' album: Download and streaming options for new release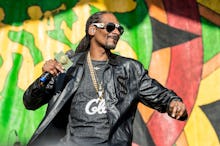 Snoop Dogg, one of hip-hop's long-standing acts, returned with his 15th studio album, Neva Left, on Friday. The rapper's latest is a follow-up to 2016's Coolaid. You can download Neva Left here and stream the new record on Spotify here. 
Neva Left comes months after Snoop made headlines for his controversial "Lavender" music video, in which he aimed a fake gun at a man impersonating President Donald Trump. The buzzy song — originally from hip-hop group BadBadNotGood and producer Kaytranada — will be on the album. On Tuesday, Snoop dropped two other singles from the Neva Left on Soundcloud: the summery "Go On," featuring October London, and the G-funk "Swivel," featuring Stresmatic.
The album's cover features a throwback photo of a younger Snoop standing in front of a California interstate sign. At an album listening session in April, Snoop said Neva Left came from his desire to create music that repped the hip-hop era from when he rose to fame. 
"I just felt like I wanted to put out some music to represent the generation of hip-hop that I come from, just to let people know that I'm still here and I still do what I do," he told Billboard. 
On the record, Snoop enlists hip-hop veterans including Too $hort, Redman and Method Man, and KRS-One.
Here's the full track list for Snoop Dogg's Neva Left via iTunes: 
1. Neva Left
Mic has ongoing Snoop Dogg coverage. Please follow our main Snoop Dogg hub here.