'Arms' WOC character, Twintelle, is a fan favorite in less than 24 hours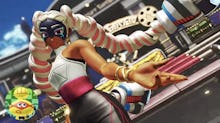 The Nintendo Direct for May introduced many new Arms characters to the Switch game's roster. We saw old Arms favorites like Min Min and Spring Man joined by newcomers like Byte, Barq and Helix. But there's one Arms character on Nintendo Switch who's caused quite a stir among fans. 
New Arms fighter Twintelle has many players switching their favorite character — for others she's already bae.
Twintelle is Arms' celebrity character, in and out of the game
Twintelle is Arms' first brown-skinned character, and she uses her pigtails to fight instead of her actual arms. Twintelle has access to the Chilla, Parasol and Thunderbird arms. She's also able to slow an enemy's attack by leaving them starstruck. Here she is in action:
Viewers only spent one minute with Twintelle during Wednesday's Nintendo Direct livestream, but that was clearly enough. Some are claiming Twintelle is now waifu; others are dropping Min Min like a bad habit. All we know is if the amount of fan art is any indication, Nintendo has a hit on its hands with Twintelle. Here are just some of the reactions:
Some are in love with Twintelle's character. Others are enamored with her design — and no, we don't mean her stiletto sneakers.
The fan art on Tumblr and Twitter is quality, if not numerous for a character we only learned about 24 hours ago. But the most classic reaction to the new Arms character comes from YouTube user Etika of EWNetwork as he questions his previous choice of Min Min.
The thirst for Twintelle is real.
Arms characters: Twintelle versus Min Min
We, and others, already foresee the battles between Twintelle and Min Min carrying a little extra weight when the game comes out June 16. Folks of the Arms fandom are weighing the pros and cons between their chosen favorite now that Twintelle has taken the stage. Perhaps we'll get a glimpse during the Arms global beta as to which character is the better fighter.
Check out more Nintendo Switch news and coverage
Looking for more Nintendo Switch news? Check out how blind gamers are using the Nintendo Switch and why you can't get your Mii to look quite like you. Nintendo's left Joy-Con issue turns out to be a hardware problem — here's how to solve it. Find out how to buy a console amid the recent restock. Learn why the Switch cartridges taste so bad. Check out our comparison photos sizing up the Switch to the Wii U GamePad (part one and part two), or find out how to make use of ethernet without the dock and the best way to get alerts when new stock arrives.