PR firm founder accused of assault launches company called "Dignity for our Daughters"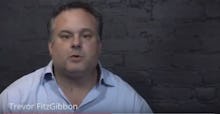 Trevor FitzGibbon, who shuttered his eponymous PR firm in 2015 after being accused of sexual harassment and assault, is launching a new business venture: Dignity for Our Daughters, an "educational consulting initiative" advocating for women in the workplace.
In its heyday, FitzGibbon Media might have represented such an organization. According to Jezebel, the firm had represented prominent progressive organizations like NARAL and MoveOn.org before folding under the weight of the accusations against its founder. 
Sierra Pedraja was among the first to break the silence around FitzGibbon's alleged treatment of women. In a 2015 interview with the Huffington Post, Pedraja recounted alleged inappropriate comments FitzGibbon made about her appearance. He also allegedly asked her if she was "open to having any fun" while she was in town to talk about job opportunities at the firm and suggested she meet him alone at his hotel. 
"I was very eager to get a job, and he used that to his advantage," Pedraja told the outlet. "He tried to make me feel very uncomfortable. He made it seem like I owed him these things to get the job. ... I was not entertaining it at all. I didn't ask for it," HuffPost reported. 
When Pedraja mentioned FitzGibbon's alleged advances to the firm's female employees,  over half a dozen accusations against FitzGibbon poured in, including those from multiple women who said he allegedly sexually assaulted them.
According to a Monday report from Shadowproof, U.S. Attorney Channing D. Phillips cleared FitzGibbon of all charges against him in April. Though he insisted the criminal allegations against him were false, FitzGibbon issued a statement apologizing for his behavior, saying he's ready to turn over a new leaf.
"Moving forward, I have a newfound compassion and sensitivity for what women go through on a daily basis and am committed to fighting against unfair power dynamics and fighting for equality for everyone — both in my own actions and whenever I see it," FitzGibbon wrote. 
FitzGibbon's bio on the Dignity for Our Daughters site pushed a similar narrative, stating that the allegations were a "thunderous wakeup call" that prompted FitzGibbon to "internalize the experiences women have."
"He acknowledges his role in an often toxic patriarchal culture, and has made a lifelong commitment to addressing this with candor and compassion," the bio continues. 
FitzGibbon's alleged change of heart, however, isn't fooling his former staff, who say their ex-boss is using Dignity for Our Daughters to retaliate against them. In a Wednesday Medium post, the unnamed former employees said the firm's former managers have released confidential information "from and about" many of them, and that FitzGibbon is using the new organization to shame his alleged victims.
"We have not forgotten the treatment we faced because of Trevor FitzGibbon's blatant disregard for our lives, our work and our families," the post reads. "The justice system failed us, as it too often fails survivors of sexual harassment and assault. We hope anyone with a dedication to supporting survivors will see through this hollow effort."