Listen to 11 Chris Cornell songs from Soundgarden, Temple of the Dog and Audioslave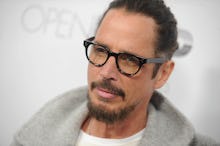 With a nearly four-octave range and a keen ear for melody, Chris Cornell looms large in rock 'n' roll history. As frontman for Temple of the Dog, Soundgarden and Audioslave and author of an extensive solo catalog, the grunge icon's sudden death Thursday at the age of 52 is a stark reminder of how few true rock icons we have left. 
Without a doubt, most listeners will turn to Cornell's biggest hits to remember his heaven-splitting voice, "Black Hole Sun" chief among them. That feels a mighty disservice to a man who pushed rock boundaries for over 30 years. For those looking to experience the true range of his songwriting and vocal capabilities take a scroll down and pay homage to an icon.
1. "Flower" by Soundgarden
The lead track off Soundgarden's debut album, "Flower" gives a self-contained view of many of Cornell and the band's distinctive characteristics. Its meditative opening is a perfect introduction to the band's early fusion of psychedelic pop and protometal. Cornell keeps himself surprisingly subdued on the hook, though it fits the track's more trance-inducing vibe.
2. "Jesus Christ Pose" by Soundgarden
"Jesus Christ Pose," the lead single off Soundgarden's third studio album Badmotorfinger, puts the raw power of Cornell's wail on full display. It cuts through drummer Matt Cameron's intricate rhythms and Kim Thayil's noisy, textural riffs. Cornell will never not steal the track if he's letting his falsetto fully rip.
3. "Slaves and Bulldozers" by Soundgarden
On this Ben Sheppard co-written track, Cornell flaunts what are essentially three distinct voices — his low, doomy croon, his energized mid-range howl and his powerful overdriven screech. Cornell was three separate frontmen in one. It's ridiculous.
4. "Rusty Cage" by Soundgarden
According to Thayil, the idea to detune the guitars and filter them through a wah wah to get that hollow warped sound was all Cornell.
"It was Chris's idea; he wanted to get that weird tone that you can't really dial in on an amp," Thayil once said in a 1994 Guitar School article. "But if you use the wah wah as a filter, it gets an incredibly weird sound. And if you listen to that riff, especially if you've heard the original demos of it, it almost sounds backward."
5. "Four Walled World" by Temple of the Dog
In 1991, Cornell put together Temple of the Dog as a one-off project to honor his friend, Andrew Wood, lead singer of Mother Love Bone, who passed in 1990. The project included two members of Mother Love Bone, Stone Gossard and Jeff Ament, who along with Temple of the Dog's lead guitarist, Mike McCready, would both go on to tremendous grunge success as the core of Pearl Jam, along with Eddie Vedder.
6. "Hunger Strike" by Temple of the Dog
Vedder was present during one of the band's rehearsals and took a shot singing "Hunger Strike" and completely nailed it. It was eventually recorded as a duet between Cornell and Vedder. "He sang half of that song not even knowing that I'd wanted the part to be there," Cornell said during a 1991 interview with KISW 99.9 FM: Seattle. "He sang it exactly the way I was thinking about doing it, just instinctively." 
7. "Say Hello 2 Heaven" by Temple of the Dog
Cornell originally wrote "Say Hello 2 Heaven" specifically to honor Wood, but it's spoken to countless mourners since. "The amount of times someone has requested I play that song for someone else who's died have been numerous," Cornell told The Independent in 2016. "That's great that it's become this anthem that makes somebody feel some comfort when they've lost someone, but recently I've become a little more possessive of the idea that this song was actually written for a specific guy, and I haven't forgotten that person. So I've been reminding myself and those in the audience where that song came from."
8. "Spoonman" by Soundgarden
One of the key songs to launch Cornell into the mainstream, "Spoonman" peaked at No. 3 on the Billboard mainstream rock chart. The song was inspired by Artis the Spoonman, a popular street performer from Seattle who plays percussion with spoons and other metallic miscellany that Cornell identified with after watching him play. Artis appears on the song, playing a spoon solo during the song's bridge, backed by Soundgarden drummer Cameron on pots and pans.
9. "Fell on Black Days" by Soundgarden
Written by Cornell, the riff is in the relatively atypical 6/4 time signature, which the band claims was a total accident. Cornell detailed the lyrics in a 1994 interview with Melody Maker: 
"Fell on Black Days" was like this ongoing fear I've had for years ... You're happy with your life, everything's going well, things are exciting — when all of a sudden you realize you're unhappy in the extreme, to the point of being really, really scared. There's no particular event you can pin the feeling down to, it's just that you realize one day that everything in your life is FUCKED!
The words carry a particular gravity today considering the Detroit police's investigation into Cornell's death as a possible suicide.
10. "Cochise" by Audioslave 
In 2001, Rick Rubin called Cornell suggesting he handle frontman duties for a new project featuring remaining members of Rage Against the Machine following their former frontman Zack De La Rocha's departure. They named the band Audioslave. Their lead single from their self-titled debut album, "Cochise," captured the punishing straightforward energy that the band wasn't quite able to summon with much consistency going forward. Cornell's vocals soared nonetheless.
11. "Never Forgot My Broken Heart" by Chris Cornell
Cornell's last full recording was his 2015 solo album Higher Truth. It's warmer, more intimate and far more welcoming than the majority of his past catalog. On the album's first single, he winds some of his characteristic existential poetry, mourning for a doomed love that never would have lasted, only to steal himself, plucking himself out of his misery to "go round again."
Mic has ongoing music coverage. Follow our main music hub here.