'Destiny 2' Gameplay Reveal: When and where to watch the stream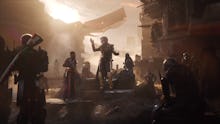 Happy Destiny 2 day. Yes, today is the day we get to find out what, exactly, Destiny 2 does differently to earn that 2 in the title. More guns? No guns? Competitive beat poetry? 
We'll all find out together.
Destiny 2 Gameplay Reveal: When and where to watch
Just how do you watch this gameplay reveal, anyway? Go to Bungie's Twitch channel at 10 a.m. Pacific/1 p.m Eastern. That's all you have to do. The future is now.
Destiny 2 takes place after the last city on Earth has been destroyed. Whoever did it also destroyed all of the precious loot you may have spent hundreds of hours grinding for in Destiny, meaning none of it will carry over to the sequel. Other than that, specific details about the gameplay and structure of Destiny 2 are few and far between. 
Hopefully today's stream answers some of our most important questions about the game. Will it have a real open world? Will there be more single player content? Will the story actually be in the game, as opposed to being sequestered away in a phone app? Will you be able to get cool gear without playing the same missions 5,000 times?
Tune in later today to find out.
More gaming news, updates, tips and tricks
Check out the latest from Mic, including our list of video games that made fun  of their players, a personal essay about dealing with anxiety through Breath of the Wild, a look at the racist and sexist experiences in esports and a plea for better character customization options for black characters.