Report: Roger Ailes, former chairman and CEO of Fox News, dead at 77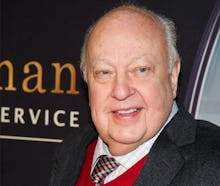 Roger Ailes, the former chairman and CEO of Fox News, was reported dead Thursday by his wife in a statement first posted to conservative news site Drudge Report. He was 77 years old.
"I am profoundly sad and heartbroken to report that my husband, Roger Ailes, passed away this morning," Ailes' wife, Elizabeth Ailes, said in the statement. "Roger was a loving husband to me, to his son Zachary and a loyal friend to many."
Fox News confirmed the report of Ailes' death in a segment that aired early Thursday morning.
Ailes, who started his career in entertainment television, in 1996 founded the Fox News Channel, which swelled to become a highly politically influential channel watched by millions around the country. He had also worked as a GOP political consultant, once working for former President Ronald Reagan's re-election campaign, before he founded Fox News.
Under Ailes' leadership, Fox News elevated the conservative voice and railed against the "mainstream media," a strategy that made it the most-watched cable news channel in the country.
Ailes resigned from Fox News in July after a high-profile lawsuit from former Fox News anchor Gretchen Carlson that alleged Ailes had sexually harassed her. Those claims snowballed amid an internal company investigation, and numerous current and former women employees at the channel, including Megyn Kelly, came forward to claim they had faced similar treatment.
Ailes had denied the claims. He received $40 million from Fox News upon his departure, and was to continue on as an adviser through 2018.
He kept a low public profile after his departure. It was reported in August that he would advise Donald Trump ahead of the presidential election.   
Fox News executive chairman Rupert Murdoch addressed reports of Ailes' death in a statement.
"Roger and I shared a big idea which he executed in a way no one else could have," Murdoch wrote. "In addition, Roger was a great patriot who never ceased fighting for his beliefs."
Kelsey Sutton contributed to this report.
This story is breaking and will be updated.