What is a special counsel? Here's the power Mueller has to investigate Trump's Russia ties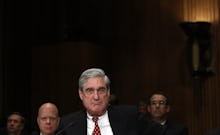 Former FBI Director Robert Mueller on Wednesday was named special counsel to lead the investigation into the potential ties between Russia and President Donald Trump's campaign.
Trump — who has called suggestions of Russia links a "hoax" — released a statement after the Department of Justice announcement, saying that "a thorough investigation will confirm what we already know – there was no collusion between my campaign and any foreign entity." 
The measured statement was reportedly at the behest of the majority of his top advisers, who recommended he adopt a "conciliatory stance," according to the New York Times. Though his son-in-law and senior adviser Jared Kushner apparently pressed Trump to fight back, the president was "uncharacteristically noncombative" by the end of the discussion, the Times reported. 
His "conciliatory stance" didn't last long.
On Thursday morning, Trump took to Twitter to lash out against the appointment, accusing former President Barack Obama and opponent Hillary Clinton of committing "illegal acts" and whining that he was the victim of an unprecedented witch hunt. 
Trump is clearly upset about the appointment of a special counsel — but what even is a special counsel, and what power does Mueller have as he takes over the Trump-Russia investigation?
Here is what Mueller can do as special counsel
A special counsel has the powers of a United States attorney, according to the BBC. Mueller will have the power to subpoena records, bring criminal charges and prosecute anyone who interferes with his investigation.
Mueller answers to Rod Rosenstein, the acting attorney general for the Russia investigation, who in turn answers to Trump; he can only be fired by Rosenstein for "misconduct, dereliction of duty, incapacity, conflict of interest or for other 'good cause.'"
But Democrats want assurance that Trump won't intervene in the investigation.
"The Trump Administration must make clear that Director Mueller will have the resources and independence he needs to execute this critical investigation," Democratic Leader Nancy Pelosi said in a statement Wednesday. 
As special counsel, Mueller will lead a DOJ-provided staff to examine Russian meddling in the 2016 election, ties between Trump and the Russians and any other matters "that may arise directly from the investigation," Rosenstein wrote in ordering the special counsel.
"I determined that a Special Counsel is necessary in order for the American people to have full confidence in the outcome," Rosenstein said in a statement announcing Mueller's appointment. "Our nation is grounded on the rule of law, and the public must be assured that government officials administer the law fairly."
As the BBC notes, Richard Nixon's attorney general appointed Archibald Cox as special prosecutor to investigate the Watergate scandal. Nixon fired Cox in what became known as the Saturday Night Massacre, which was called to the minds of many observers following Trump's firing of former FBI Director James Comey.
In 1978, four years after Nixon's resignation, Congress passed legislation giving broad independent authority to the independent counsel, which was later allowed to expire in 1999 after Kenneth Starr's Whitewater probe revealed President Bill Clinton's affair with Monica Lewinsky, eventually leading to his impeachment.
There are now regulations in place defining the need for a special counsel. A counsel is needed when an investigation would cause a conflict of interest for the DOJ or in "extraordinary circumstances."
Democrats have argued that these are, indeed, "extraordinary circumstances" — and on Wednesday, Rosenstein signaled that he seemed to agree.
"My decision is not a finding that crimes have been committed or that any prosecution is warranted. I have made no such determination," Rosenstein said. "What I have determined is that based upon the unique circumstances, the public interest requires me to place this investigation under the authority of a person who exercises a degree of independence from the normal chain of command."
Democrats were pleased with the appointment, but say it is only a first step — they believe an independent investigation is necessary to ensure the probe is "completely free" from the administration.
"Director Mueller will still be in the chain of command under the Trump-appointed leadership of the Justice Department," Pelosi said. "He cannot take the place of a truly independent, outside commission that is completely free from the Trump Administration's meddling."