Kesha pens essay about her experience with depression, anxiety and an eating disorder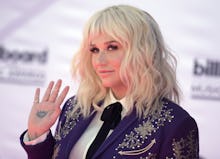 It's been a hard year for Kesha.
After speaking out about the physical, emotional and sexual abuse she experienced allegedly at the hands of her producer, Dr. Luke, the singer became entrenched in a messy legal battle to end her contractual relationship with her alleged abuser. According to emails exchanged between Kesha and Dr. Luke, the producer's alleged abuse included fat-shaming comments and pressure to diet and lose weight, triggering a struggle with an eating disorder. 
Now that Kesha is on the other side of at least a few of these experiences, the singer has penned an essay for Teen Vogue reflecting on how she's grown from her trauma.
"I've realized that once you take the step to help yourself, you're going to be so happy you did," the singer wrote. "Trying to change your life based on other people's thoughts can drive you crazy. You have to figure out what makes you feel good and what keeps you in a positive head space."
Kesha said social media proved to be one of the most damaging sources of her anxiety, depression and low self-esteem. Though social media has always served as a way for the singer to connect with fans, in the throes of an eating disorder it only made Kesha more vulnerable to body shaming and slut shaming. Kesha found herself in a "vicious cycle" of letting internet trolls' mean comments fuel her eating disorder and make her feel worse. 
"I have felt so unlovable after reading cruel words written by strangers who don't know a thing about me," she wrote.
But the singer has decided to turn over a new leaf: Kesha's changing her relationship to social media and, by extension, herself, making it her mission to embrace the things about herself she once hated.
"I want to pass along the message to anyone who struggles with an eating disorder, or depression, or anxiety, or anything else, that if you have physical or emotional scars, don't be ashamed of them, because they are part of you," Kesha wrote. 
"Remember that beauty comes in all shapes and sizes. And that no one can take the magic you make."