Roger Ailes and Donald Trump: Here's a timeline of their mutually beneficial relationship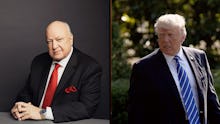 Roger Ailes, who was reported dead on Thursday morning, not only leaves behind a legacy as the former chairman and CEO of Fox News — he will also be remembered for his symbiotic, if sometimes contentious, relationship with President Donald Trump.
Here is how Ailes and Trump — friends for years — helped each other out.
Trump: a candidate "invented" by Fox
Trump had been a regular on Fox News, the network Ailes founded, long before embarking on his unlikely road to the White House. In many ways, he was the perfect candidate for the network. 
According to Gabriel Sherman, Ailes' biographer, the Fox News founder had become "the most influential Republican in American life over the last 40 years by figuring out that television and politics were going to become one and the same thing." 
And Trump, whose image in the American collective consciousness was largely shaped by TV, was said to have benefitted as a candidate from the coverage he received on Ailes' network.
In February 2016, former House Speaker Newt Gingrich — now one of Trump's staunchest supporters — criticized Fox News for its positive coverage of then-candidate Trump and for giving him a platform for his views.
"Donald Trump gets up in the morning, tweets to the entire planet at no cost, picks up the phone, calls you, has a great conversation for about eight minutes, which would have cost him a ton in commercial money and meanwhile his opponents are all out there trying to raise the money to run an ad," Gingrich said on Fox and Friends.
"You could say that Trump is the candidate Fox & Friends invented," Gingrich continued. "He was on your show I think more than any other show. It was always a happy, positive conversation."
Some of Fox's positive coverage of Trump appears to have been ordered by Ailes himself. In her memoir, former Fox News anchor Megyn Kelly — who has accused Ailes of sexual harassment — wrote that Ailes would caution her not to be "too hard" on Trump.
"I'd get a call from Roger (who was getting calls from Trump). Was I being fair to Trump? Was I being too hard on him?" Kelly wrote. "He felt the bar for skeptical Trump coverage should be higher."
Trump didn't just benefit from the positive coverage he received on Ailes' network — the distrust of the mainstream media Fox News sowed in its viewers paved the way for Trump to dismiss negative stories about him as "fake news." According to a Pew Research poll in January, Fox News was the main source of news for Trump voters. 
Trump advised by Ailes
Ailes was ousted from Fox News in July 2016 in the network's ongoing sexual harassment scandal. 
Trump quickly came to the former chairman's defense during a Meet the Press appearance, effusively praising Ailes as a "very, very talented person."
"I can tell you that some of the women that are complaining, I know how much he's helped them," Trump said of the accused serial harasser.
The next month, reports emerged that Ailes was "aiding Mr. Trump's team as it turns its attention to the first debate with Hillary Clinton, the Democratic nominee, on Sept. 26 on Long Island."
Trump's team denied the reports, but others — including Sherman — charged that Ailes had for months been an informal advisor to Trump.
"That alone is worth considering," David A. Graham wrote in the Atlantic. "The boss of America's most popular cable-news channel, and the most powerful single voice in conservative media, has been advising the Republican presidential candidate for months."
Trump-Ailes relationship sours
According to Sherman and Vanity Fair's Sarah Ellison, Ailes and Trump had a falling out during the campaign and were no longer on speaking terms.
"Ailes's camp said Ailes learned that Trump couldn't focus — surprise, surprise— and that advising him was a waste of time," Sherman said. "These debate prep sessions weren't going anywhere."
Trump, Ellison said, was also frustrated with Ailes during the debate preparation.
"Even for the second debate, Ailes kept going off on tangents and talking about his war stories while he was supposed to be prepping Trump," Ellison said.
Then, when reports emerged in October that Trump had been considering starting a television network called Trump TV, it was reported that the rumored network was at least partially meant as a "threat" to Ailes and Fox News, whose coverage of the campaign had begun to upset the candidate.
Trump does not appear to have commented on the death of Ailes as of Thursday morning.