This lingerie brand is turning the irksome measuring process into a body positive activity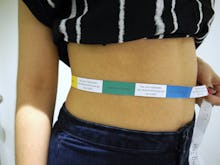 Whenever you shop a new brand, whether it be for jeans, shirts, dresses or even underwear, there comes the inevitable staring at the size chart. 
You stare and stare at the columns which are usually labeled something like XS, S, M, L and — if you're lucky — XL, which then come with corresponding measurements in inches or centimeters. Then you measure yourself, which can be a frustrating and sometimes harrowing process that forces people to define themselves by a size, which can vary widely from brand to brand for no real reason. 
The lingerie brand Neon Moon, which has long been a driving force for inclusivity in the lingerie world, gets why this sucks — and now it wants to help. 
How so? Well, the brand is starting small with a custom measuring tape free for customers to download. 
Here's why it's different: There isn't a number every few inches. Instead, you'll see sizes like "Size Stunning" or "Size Lovely." If you land between two sizes, the measuring tape will tell you you're "in between, we recommend you go up a size!" and then you'll be designated "Size Beautiful" or "Size Fabulous."
But how does that translate to numbers? Well, on Neon Moon's website, it doesn't. Rather than have numerical sizes, or something like XXL and XXXL, the brand opted more than a year ago to stick with named sizes instead.
And there's good reason for that. 
"The measuring tape was organic with our growth, and especially important alongside our size guide as some people are triggered by measuring themselves," Neon Moon founder Hayat Rachi told Mic in an interview. "Also, it's a fun way to make a tedious task a more enjoyable experience for all. Neon Moon as a brand loves to compliment women and see beauty in all shapes and sizes, and therefore all our sizes are compliments." 
Neon Moon has effectively turned measuring oneself, which indeed can be triggering, into a body-positive activity. 
That couldn't really come at a better time, what with clothing sizes — and their unpredictability — becoming the focus of many a viral moment as of late. 
Perhaps predictably, already on social media, the brand is seeing the measuring tape's effect. 
"Neon Moon's customers and supporters love the idea of being different-sized compliments in boobs and bum," Rachi said. "It removes the stigma of not fitting certain measurements, whilst feeling like a part of our amazing community of women who send in Neon Moon selfies after measuring themselves in a body-positive way."