'Overwatch' Anniversary Event: 3 new maps are coming to the game in next update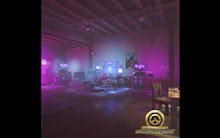 The announcements are already coming in for the Overwatch Anniversary event that starts on May 23. At a press event in New York on Wednesday, Jeff Kaplan said that there would be ongoing teasers and announcements throughout the week leading up to the event — and it looks like he's delivering on that.
'Overwatch' Anniversary event update: Three new arena maps confirmed
The European Overwatch Twitter account tweeted a video featuring glimpses of three new maps set to debut with the Anniversary event. These three maps will be joining Ecopoint: Antarctica and will be specifically used for arena games, like 1v1 and 3v3.
Unlike Ecopoint: Antarctica, however, these maps will be redesigns of locations that we've already seen: Dorado, Anubis and Eichenwalde. 
Luckily, because this event isn't tied to a specific holiday or in-universe lore, we can assume these maps will be permanent additions to the game and will be in rotation with Ecopoint starting May 23.
If the first day of announcements is new maps, we can only hope the rest of the week is filled with equally or more exciting content updates. 
More Overwatch news and updates
For more on Overwatch, check out the rest of what Mic has to offer. Here is an essay about how Efi Oladele was a missed opportunity for Overwatch, a deep dive into the issue of sexual harassment in Overwatch voice chat, an unintentionally hilarious infographic showing the most popular Overwatch characters in each state, a criticism of Blizzard's failures in its design of Symmetra and a dive into a cool trend on Tumblr that converts your most-played heroes into a psychedelic illustration.