Democrats on Capitol Hill could not be happier about the special counsel investigation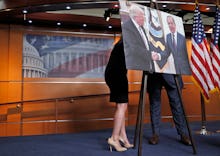 Wednesday's news that the Department of Justice appointed former FBI Director Robert Mueller as special counsel to oversee the investigation into alleged collusion between President Donald Trump's campaign and Russia caps a tumultuous week in Washington. A seemingly endless stream of scandals have rocked the political world all week — and it's only Thursday.
Publicly, Deputy Attorney General Rod Rosenstein's decision to appoint Mueller has been met with praise in Congress across the political aisle. "Mueller is a great selection," Republican Utah Rep. Jason Chaffetz said on Twitter. "Impeccable credentials. Should be widely accepted." Senate Minority Leader Chuck Schumer (D-N.Y.) said Mueller is "exactly the right kind of individual to serve as special counsel in the Russia investigation."
Behind the scenes Wednesday evening, congressional staffers described a mood of satisfaction. Trump now faces an independent investigation into his campaign's Russia ties, which threatens to grind his presidency to a halt just 117 days after his inauguration.
One Senate Democratic staffer, who requested anonymity to speak freely on the matter, told Mic  Mueller's appointment was "a big victory" for the party. "This is a very important step," they said. "It is truly remarkable that it took this long to get here, but we definitely got what we wanted."
The sense of jubilation among Hill Democrats stemmed mostly from the public recognition that Mueller's appointment makes official what Democratic aides say has happened privately over the past three days in the halls of Congress: The atmosphere has changed markedly.
Until now, the possibility of impeachment was a mere pipe dream for Democrats still reeling from Trump's surprise victory in November. But the bombshell revelation that Trump asked former FBI Director James Comey to drop the agency's investigation into former national security adviser Michael Flynn has substantially shifted the conversation.
Suddenly, the "i" word has been popping up into the mainstream.
"What we're seeing now is something that is so irrefutable and offensive that you can't hide behind ideology anymore," the staffer continued. "We're in a different mode now. There's no hiding from this."
Most Democratic members have yet to say the word "impeachment" outright and continue to dance around the subject, with some notable exceptions. Rep. Al Green (D-Texas), for example, took to the House floor on Wednesday calling for Trump's impeachment.
The default position for Democrats continues to be demanding an independent investigation into the Trump campaign's potential Russia ties. "Too early for any other 'i' words at this point," Rep. Eric Swalwell (D-Calif.) told Mic's Celeste Katz on Wednesday.
Behind closed doors, however, there is growing recognition by Democratic staffers that momentum is beginning to tip in their direction — and that Trump's political future may hang in the balance.
"There's a prevailing sense that there's no way President Trump will make it through this in one piece," another Democratic Senate aide, who spoke to Mic anonymously because they weren't authorized to speak for their office, said. "Everyone is waiting for the next shoe to drop."
Practically speaking, impeaching Trump would require Republican support in Congress, something which has been a nonstarter until now. And while still quite a long way away, as Mic's Emily Singer outlined in an explainer video, high-ranking Republicans have started breaking rank in the past 48 hours.
"I think it's reaching a point where it's of Watergate size and scale," Sen. John McCain (R-Ariz.) said during the International Republican Institute's Freedom Awards on Tuesday. The following day, Rep. Justin Amash (R-Mich.) said that if reports about Trump's statements to Comey are true, it would merit impeachment.
Of course, Democrats recognize that any effort to impeach Trump would be met with a ferocious fight by the president and his team — one that would be very difficult to win.
"One thing I've learned is to never count him out," a third unnamed Democratic congressional aide told Mic. "Odds are still very much in his favor that he survives."
The House, after all, has only voted to impeach two presidents in U.S. history.
However, as the Trump administration continues to be dogged by scandal and as his poll numbers remain anemic, Democrats are beginning to see a path forward that until now would had been unthinkable.
"There is a prevailing sense that more Republicans will start to break if this continues," the second congressional aide said.
In the meantime, staffers are bracing for more chaos, scandal and the unrelenting pace of breaking news.
"Every day is a fire drill," the aide continued. "We come into work trying to focus on issues like health care and tax reform, and then all the air is taken out of the room with these scandals."