'The Bachelorette' 2017 Premiere Recap: Rachel Lindsay is a star among her season 13 men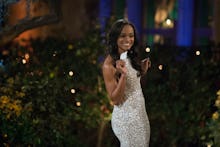 While usually the most discussed episode of the season — thanks to the contestants with weird occupations and eccentric introductions — the premiere of The Bachelorette tends to be the least helpful for figuring out who's going to stick around in the competition. Yes, Rachel Lindsay gave out her first impression rose, but receiving that is not always a guarantee of success. Rachel got it during Nick Viall's season of The Bachelor and went far, but it did little for Olivia Caridi in Ben Higgins' season.
Meanwhile, there's always a group of contestants who get sent home on the first night, and rarely are they ever anyone you remember. Bigger characters are kept around for good TV, while the quiet ones shuffle out quickly. Who gets eliminated rarely matters this early.
So the season 13 premiere is best used as a temperature-taking session. How is the cast as a whole? What is the vibe of the season? And, most importantly, how is our bachelorette? The answers after Monday's premiere, in order: The cast seems decent, the vibe is pretty much like any other Bachelorette season and Rachel is a goddamn star.
The episode begins untraditionally, taking us behind the scenes to Rachel's Bachelorette photo shoot. Host Chris Harrison hypes her up as being one of the most beloved contestants in Bachelor franchise history. There's no attempt to lower expectations here: ABC seems head-over-heels in love with Rachel, and it's clear the audience is, too.
How could anyone not be in love with Rachel? She's an accomplished attorney, smart and capable without ever giving the feeling like she's too good for the show. She's elevating The Bachelorette; she isn't letting it drag her down. She's assured, even already announcing that she ends the show engaged. Rachel isn't here to play a coy game: She's taking this seriously, but still enjoying the ride.
While it's fun to watch Rachel meet the men who she'll be dating for the next several weeks, it's her reunion with the other women from Nick's Bachelor season that stands out as the best scene of the episode. Despite being in a bummer of a season, the women seem to have really bonded, and their friendships read as truly authentic. It speaks highly of Rachel that, instead of just having a couple of previous bachelorettes over to give her advice, she looks to the women she's actually formed bonds with.
Nick's runner-up, Raven Gates, notes what it says about Rachel's character that she formed friendships with a group of women who are all quite different. Indeed, watching someone like Corinne Olympios, who was such a divisive presence in The Bachelor, so effortlessly get along with this group really does establish Rachel as a uniting force.
We'll see if Rachel can't pull the same magic with her men, who so far seem like a solid bunch, though possibly lacking in firecrackers. (If your most immediately divisive presence is the "whaboom" guy, you're gonna have a villain problem.) Again, even in meeting the men, it's Rachel who shines brightest. She makes an effort to connect with all of them, even the oddest men. She has a fun conversation with the guy in the penguin suit.
Here's the problem, though: Every bit of success this episode achieves is entirely on Rachel's back. That's not a bad thing, necessarily — she is the star, and if there's one element to get right, it's her. Everything else, though, is standard-issue Bachelorette.
The Bachelor franchise just endured two rough seasons, Nick's most recently and Jojo Fletcher's before that. Frankly, the show probably needs a radical reinvention of itself to stop its creative decline. Unfortunately, the show is actually up in the ratings when no other series on network TV is, and thus will probably continue in this same format for the foreseeable future.
Luckily, if the premiere is indicative, Rachel's season will be far superior to Nick's and Jojo's. Simple, standard acts like watching her give out her first impression rose — to Bryan Abasolo, the sweet and Spanish-talking suitor — feel like major moments. She's working within established structures and making them more enjoyable through sheer force of personality.
Simply put, Rachel is the most interesting lead either The Bachelor or The Bachelorette has had in seasons, and would be even without the history-making nature of her casting. Hopefully, as she continues to raise the standard, The Bachelorette will rise to meet her. She could be what the show needs to really change itself.
The Bachelorette airs Mondays at 8 p.m. Eastern on ABC.
Mic has ongoing coverage of The Bachelorette. Follow our Bachelorette main hub.