How the electronics ban will affect US travelers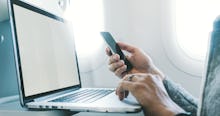 Having a laptop onboard, whether to catch up on work or binge-watch television, is one of the few ways to make a long flight tolerable. But using a laptop, as well as many other electronic devices, is no longer an option on flights from certain destinations. 
In March, U.S. Homeland Security banned travelers from bringing devices larger than a smartphone (including Kindles and tablets) on flights departing from 10 airports in eight Muslim-majority Middle Eastern countries. The reason for the restrictions is U.S. security officials believe terrorists may target commercial airlines by hiding bombs in batteries for devices like laptops and other chargeable devices. 
The U.S. was considering enforcing the same electronics ban on flights from Europe. But on May 17, following a four-hour meeting in Brussels between the E.U. and U.S. security personnel, officials decided to hold off on instating the ban, citing the risk of fire from these types of electronics if checked in the airplane's stowage. 
"Given the risk of fire from these devices when they are damaged or they short circuit, an incident in the cabin would be spotted earlier and this would enable the crew to react quickly before any fire becomes uncontainable," Steve Landells, a safety expert at the British Airline Pilots Association, told the BBC. "If these devices are kept in the hold, the risk is that if a fire occurs the results can be catastrophic; indeed, there have been two crashes where lithium batteries have been cited in the accident reports."
However, this decision on whether laptops are allowed in cabins on transatlantic flights from Europe is not final. The Department of Homeland Security and European Commission on Aviation Security will meet again later in May to further discuss this prospective ban. 
Here's where in-cabin electronics are banned
Travelers flying out of the following 10 airports will have to check electronics. 
• Abu Dhabi International Airport (AUH)
About 350 flights departing the Middle East and Africa every week are currently affected by the electronics restrictions. 
If you're on one of these airlines, pay attention to your layover
Layovers are important here, too. Even if you're coming from Southeast Asia or Australia, your electronics are banned if you're on one of the below airlines — you will have to sacrifice your electronic entertainment for the U.S. leg. Call your airline in advance if you have any questions about having your laptop on your route.
• EgyptAir
What to do if the ban affects your flight from the Middle East
If you're on a flight where the ban is in effect, you have a few options for traveling with your laptop and iPad. You can store your electronics in your checked luggage during the flight — just make sure to stash it between layers of clothing to minimize any impact from luggage handling. Or, if you prefer, you can ship them from wherever you are back to your home or office. (Many airports have post offices in terminals.) 
Some airlines, like Emirates, are creating services that let you use your laptop in the airport terminal. When you board, the crew will stow your electronics safely below deck for the duration of the flight. This is similar to gate-checking a stroller or wheelchair. Qatar Airlines has also started lending in-flight laptops to premium cabin travelers as a way to entice potential customers booking routes impacted by the ban. 
Another way to circumvent the ban if you're traveling from the Middle East to the U.S.? Book a layover through Europe. As The Points Guy discovered on a recent flight, if your flight from Dubai stops in Milan, or elsewhere in Europe, you can carry all your electronics onboard. And who wouldn't want some bonus time in Italy?