Dallas school police officer slammed a 6th-grader to the ground, fractured her clavicle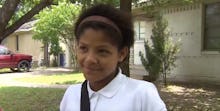 A police officer from Dallas Independent School District has been put on administrative leave after allegedly slamming a 12-year-old girl to the ground and fracturing her clavicle. 
In the video, sixth-grader Mariana Benton is seen fighting with another female student on Piedmont Global Academy School's campus. The two girls are surrounded by other students until an unnamed Dallas ISD officer break up the fight, pick up Benton and then slam her to the ground. Students can be heard shouting in horror.
Benton also said the officer pepper sprayed her. 
"The officer came and grabbed me and body slammed me, then put the pepper spray," Benton told local television station KXAS. "He pepper sprayed me in the eyes and I couldn't open my eyes because it was burning me, the eyes, so then they took us to the nurse to put water."
The school district looked into Benton's conduct after the incident and suspended her for three days, according to the Dallas Morning News. Benton was also hospitalized for a fractured clavicle. 
As for the officer, Piedmont Global Academy put him on administrative leave and refused to release their name. According to the Root, the school district said the officer's action do not "represent the type of response we want our officers to display."
But Alma Valdez, Benton's mother, told KXAS the officer should not be working with children based on how he treated her daughter. 
"I don't want him being suspended, I want him get fired," Valdez said. "Why is he still working with kids? He's not capable of working like that."
"It makes me mad, angry," Valdez told local station KTVT. "She's 12 years old. She weighs 100 pounds. He should be fired."
According to KXAS, Valdez is looking to hire an attorney and file a lawsuit against the school. She also said a school official forced students who filmed the violent incident to delete their videos. 
BET released the footage in their coverage of the incident: