Reebok set to launch its own take on the male romper. It's called the ReeRomp.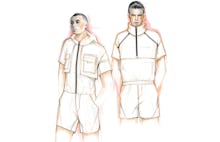 Reebok is cashing in on the trending topic that is male rompers (something we assumed would happen, albeit not this soon). On Thursday, the company announced their forthcoming ReeRomp, the latest take on the male romper.
Less than three days after the release of the divisive-yet-obsessed-about RompHim, Reebok (an Adidas subsidiary) announced the upcoming release of what they describe as a "fashionable and functional one-piece outfit" made from their signature ACTIVChill material.
Take a look:
Asked if this was in reaction to the RompHim, Mark Leonardo, Senior Design Director of Reebok Global Apparel, was coy. "We're always on the lookout for fresh new trends," Leonardo said in an interview. "The idea of one-piece units is not new to Reebok. We've had one-pieces in our collections for a while now. It wasn't until this week that we realized that there was a true consumer demand for a men's romper."
And that consumer, they want to make clear, is not limited only to one gender. "Though our ReeRomp was designed with the male physique in mind, we are confident it can look stylish on anyone."
One keep differentiator: the ReeRomp is cheaper than its chief competitor, coming in at $89 — $30 cheaper than the RompHim (granted, the RompHim was offered in various colors, while the ReeRomp is only available in white for now.)
The ReeRomp by Reebok is available for pre-order beginning Thursday, and will officially be released on June 19.
Forget Donald Trump and Rosie O'Donnell, 2017's biggest feud is shaping up to be a battle between competing male rompers. Who'd have thought?