'Super Smash Bros.' Nintendo Switch Characters: Twintelle from 'Arms' needs to be included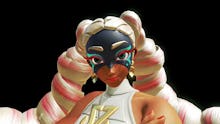 Super Smash Bros. 4 on the Nintendo Switch remains the dream port we all want. While still not confirmed, Nintendo has heavily hinted at the game's arrival on the console. Smash Bros. Switch may very well remain a twinkle in our eye, but if it does come, we can almost assuredly expect new Smash Bros. characters to come along with it. And after watching the latest Arms trailer, we have a great idea of who would be the perfect fit for it.
Super Smash Bros. Nintendo Switch characters: The case for Arm's Twintelle
It's no secret Twintelle is the new Arms fan favorite. The game's first woman of color character has sparked fan art, fierce words and feelings of infidelity amongst Min Min lovers in less than 24 hours.
Judging by her fighting skill in Arms, Twintelle would make a great addition to the Smash Bros. roster. According to Nintendo's recent Direct, Twintelle can pause attacks thanks to her celebrity good looks. Like other Arms fighters, Twintelle has access to three different arms; in her case, that's the Chilla, Parasol and Thunderbird. Unlike the other Arms fighters, however, Twintelle uses her pigtails to deal punches instead of her actual arms. 
If you're thinking Twintelle's Arms moves would translate well to the mechanics of Super Smash Bros., you're not wrong. In addition to her attacks in the upcoming Switch game, standard Smash moves would need to be thrown into the mix. For example, we could see Twintelle using her long, arm-like hair as an upward recovery move.
In short, Twintelle needs to be added to Smash Bros. for Switch. If only to counter the game's current boxer, Little Mac.
Super Smash Bros. Nintendo Switch characters: Will we see the new game anytime soon?
Nintendo has set a precedent for Wii U games to make the transition over to Switch. Games like Mario Kart 8 Deluxe and the upcoming Splatoon 2 are highly similar to their Wii U predecessors, so much so that it's easy to see how a game like Super Smash Bros. 4 could make its way to the Switch. 
At this point, it's really just a question of when the news is announced. Nintendo may not want to take attention away from Arms, its fighting game of the moment, but it could still reveal a future release date for Smash. If you ask us, bringing a Super Smash Bros. Switch port to E3 2017 is an option Nintendo would be foolish to pass up. But that's none of our business.
Check out more Nintendo Switch news and coverage
Looking for more Nintendo Switch news? Check out how blind gamers are using the Nintendo Switch and why you can't get your Mii to look quite like you. Nintendo's left Joy-Con issue turns out to be a hardware problem — here's how to solve it. Find out how to buy a console amid the recent restock. Learn why the Switch cartridges taste so bad. Check out our comparison photos sizing up the Switch to the Wii U GamePad (part one and part two), or find out how to make use of ethernet without the dock and the best way to get alerts when new stock arrives.