'Injustice 2' Easter Eggs: References to 'Mortal Kombat' and the DC Universe Abound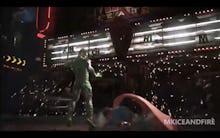 Injustice 2 focuses on a very specific DC Universe, but that doesn't mean there aren't at least a few Easter eggs tucked away for the discerning fan to enjoy. So in between using your favorite superhero (or villain) to pummel the crap out of a truly huge character roster, keep your ears open for some subtle — and not-so-subtle — references to the DC Universe.
Injustice 2 Easter Eggs: Voice clips, stage references and character skins
Injustice 2 hides a couple of cool Easter eggs in the character skins you can purchase. One of the big ones is the Powergirl skin you can unlock for Supergirl, or the Mister Freeze skin for Captain Cold. 
And IGN found a couple of cool Easter eggs in post-match win quotes. If Supergirl wins a match against Atrocitus, for example, she has a chance to say "Streaky is better than Dex-Starr!" — a reference to Supergirl's supercat Streaky and Atrocitus's feline Red Lantern companion Dex-Starr. Additionally, Batman will make several references to the events of the original Injustice when fighting Superman.
Certain stages have references in them as well, according to IGN. The Ace O'Clubs set piece in Metropolis, for instance, is a reference to a bar run by Superman's biggest fan, the somewhat confusingly-named Bibbo Bibbowski.
If those don't quench your thirst for Easter eggs, YouTube user MKIceAndFire has compiled a video with all the Easter eggs they've found so far, including one reference to developer Netherrealms' previous IP: Mortal Kombat.
That said, the game's only been out since May 16, so there are probably more references waiting to be discovered. Keep your eyes peeled.
More gaming news and updates
Check out the latest from Mic, including our list of video games that made fun of their players, a personal essay about dealing with anxiety through Breath of the Wild, a look at the racist and sexist experiences in esports and a plea for better character customization options for black characters.