One killed, 22 injured after car plows through Times Square sidewalk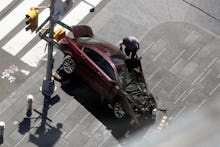 A speeding car struck sidewalk pedestrians in New York City's Times Square on Thursday killing one and injuring several others, multiple outlets are reporting.
According to ABC News, police say an 18-year-old woman was struck and killed by the car and 22 were taken to nearby hospitals. One of those injured was the 13-year-old sister of the woman who was fatally struck. 
NYPD announced the name of the driver as 26-year-old Richard Rojas.
NYC officials told ABC News that the incident was likely an accident. Reuters reported that the New York Police Department closed off the area shortly after the incident. The NYPD later tweeted that they had arrested a man in connection with the collision, which they characterized as "an isolated incident." 
Witnesses at the scene said the car was driving the wrong way before it struck pedestrians, Fox News reported.
Shortly after the crash, the FDNY tweeted there were 13 patients at the scene and referred to the incident as an "accident," as well.
After visiting the scene, Cuomo issued a statement saying the incident was "nothing short of horrific."
White House press secretary Sean Spicer issued a tweet saying President Donald Trump had been briefed on the situation.
NBC News reported that Rojas multiple prior arrests and the Associate Press reported that he was tested for alcohol after being removed from the car.
May 18, 2017, 3:00 p.m. Eastern: This story has been updated.