'Injustice 2' Harley Quinn Combos: Here's how you can kick butt with a literal bat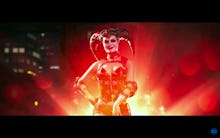 Harley Quinn has become pretty popular in mainstream media with her appearance in Suicide Squad — so it's no surprise people want to play her in Injustice 2. 
And if you're going to play her, you might as well be the best at it. Let's learn some of her combos. 
Injustice 2 Harley Quinn combos: How to pull off some gruesome moves
So you want to get good at Harley Quinn? We have the answers, courtesy of a great guide on Event Hubs that goes over all the Harley Quinn combos for both consoles. 
The only problem is, unless you're pretty familiar with fighting games already, they might be little confusing. So, let's go over some translation. Event Hubs is nice because it describes each move by the weight of it. There are light moves, medium moves and heavy moves. In the guide, this is indicated by the letters L, M and H.
Square is light move
And for Xbox One:
B button is light move
Once you've gotten that down, watch the video below to see what each move should actually look like.
More gaming news and updates
Check out the latest from Mic, including our list of video games that made fun of their players, a personal essay about dealing with anxiety through Breath of the Wild, a look at the racist and sexist experiences in eSports and a plea for better character customization options for black characters.