'Life Is Strange' Sequel: Publisher announces follow-up to the critically acclaimed game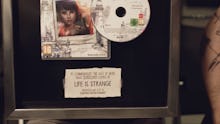 While celebrating 3 million copies sold, the Life Is Strange team had a big announcement to make: we're finally going to see a follow-up to the critically acclaimed teenage time-travel game from 2015. 
Why we're so excited for a Life Is Strange sequel
The original Life Is Strange game debuted on PC to the delight of the Steam community and game critics alike. The game's premise was that you played as a teenage girl named Max, who had somehow gained the power to manipulate time. It's a tumultuous journey through what it means to be a teenage girl in the modern world and the social challenges that girls face in adolescence. 
Life Is Strange was my favorite game in 2015 and is often a game that I recommend to players looking to get into adventure games that are a little off the beaten path. It's heart-wrenching. It's frustrating. Sometimes, it's even terrifying.
Life Is Strange sequel: What we know so far
In the short YouTube video above, the French developers gave a special shout-out to their fans, thanking them for their fan art, letters, statues and cosplay photos. And, in what seems to be the ultimate in gratitude, the developers confirmed that since the boxed version's release in 2016, they've been working on a new Life is Strange game with the same team.
There's no release date, either confirmed or rumored, so not much more is known at this time. Life Is Strange is currently available for Steam, PlayStation 4 and Xbox One.
More gaming news and updates
Check out the latest from Mic, including our list of video games that made fun of their players, a personal essay about dealing with anxiety through Breath of the Wild, a look at the racist and sexist experiences in esports and a plea for better character customization options for black characters.