US forces strike Assad regime in Syria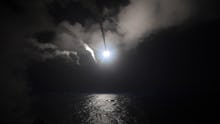 A United States-led coalition conducted air strikes in Syria on Thursday, according to reports.
The strikes against Syrian President Bashar Assad's forces occurred in the southern part of the country, according to Mike Giglio, a Buzzfeed correspondent based in Turkey.
Buzzfeed senior national security correspondent Nancy Youssef confirmed with a U.S. defense official that the strike was launched by the U.S., Giglio said. 
According to David Martin, CBS News national security correspondent, the U.S. attacked regime vehicles that had violated a deconfliction zone twice in three days. 
The zone was set up around al-Tanf, an army base where forces are training Syrian militias, CBS News reports. Twenty-seven regime vehicles had driven within 18 miles of the base — violating of the 34 mile radius of the deconfliction zone. Then, an unarmed Syrian bomber entered the zone but was intercepted by F-22 fighters. Reuters reports that the U.S. fired warning shots at some point before Thursday's strike. It wasn't clear to CBS News on Thursday why the vehicles had breached the zone, but Giglio reported that the U.S. strikes may have destroyed "regime and pro-regime militia vehicles."
Giglio also said that it was a "very complex situation" at the base and warned that it could "escalate."
President Donald Trump ordered a missile strike against the Syrian government in April in response to a chemical attack by the Assad regime on its own people. 
Trump said that "no child of God should ever suffer such horror" in a statement offering his reasoning for the April strike — the first direct strike against Assad's government by the U.S.
Assad condemned that U.S. strike on a Syrian airfield as "reckless," "irresponsible" and "short-sighted." Russian President Vladimir Putin, Assad's powerful ally, blasted the bombing as an "aggression against a sovereign state in violation of the norms of international law and on a made-up up pretext."
A senior U.S. official told Fox News that Thursday's strike was called for by the commander on the ground for "force protection," Shephard Smith reported. 
"There is no change in policy," the official said, according to Smith. 
May 18, 2017, 1:54 p.m. Eastern: This story has been updated.