A bikini selfie has sparked a conversation about the power in being a body-positive mom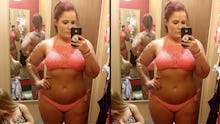 As a mom, Brittney Johnson knew that she was an example for her daughter when it came to kindness and manners and politeness, showing her daughter how to treat others with respect. But until just recently, Johnson didn't realize that she was also an example for her daughter when it comes to how she sees her own body.
That point was made clear earlier this month, when Johnson and her daughter went into a changing room at Target to try on swimsuits and Johnson finally saw what her words had done to her daughter's self-esteem. 
In a Facebook post that has now gone viral — with more than 300,000 likes as of Thursday afternoon — Johnson posted a picture of herself in a swimsuit and her daughter in an outfit of her own, and wrote what she saw. 
"See that sweet baby girl in the corner? With half a dress on and one of the bikini tops I had picked out?" Johnson wrote. "I stopped for a second to see what she would say and when she turned to the mirror, she said 'Wow I just love cheetah print! I think I look beautiful! Do you think I look beautiful too?!' when it hit me that she only says what she hears [and] what she sees. I tell her that she is beautiful every single day. She is kind walking through the mall, because I tell her she is kind everywhere else. She is polite at the order counter because she hears me when I'm polite to strangers everywhere."
Unbeknown to Johnson, she had been setting an example for her daughter when it comes to body acceptance — and the power inherent in body acceptance. 
"When it comes to manners, be an example. When it comes to kindness, be an example," Johnson wrote. "And when it comes to body image, be an example. I am not a size zero. I never will be. I have big thighs and a huge rump. ... But this body made a whole other body. I am strong. I am able. And I am happy. I don't have to be beautiful like you, because I am beautiful like me." 
This is a lesson that, according to Johnson, will be vitally important later on too, as her daughter grows into adolescence and more pressure will be on her daughter to conform. 
"As my daughter gets older, and she faces judgement and criticism, I will always remind her that the girls who look the prettiest in a two piece, or a body suit, or a freaking Snuggie, are the ones who are happy. Because that's ALL that matters. And I want her to look at herself every single day and say 'Oh wow! I think I look beautiful!' because EVERY girl deserves to feel that." 
Mic has reached out to Johnson for further comment and will update upon receiving a response.