Chelsea Manning just tweeted the first photo of herself since being released from prison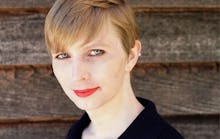 The wait is over. 
On Thursday afternoon, Chelsea Manning, who was released from prison on Wednesday after serving seven years of an unprecedented 35-year sentence, shared a picture of herself with the world. 
"Okay, so here I am everyone!" Manning wrote on Twitter. 
In an earlier interview with Mic, Evan Greer, a confidante of Manning's, said that public perception of Manning, a transgender woman, was altered without an up-to-date picture. 
"Chelsea has been robbed of that right to have any semblance of control over her image," Greer said. "I can say myself, as a trans person, those basic things like how I wear my hair and how I present myself are a huge part of how I define myself."