'Overwatch' Anniversary Event: New dance emotes revealed ahead of update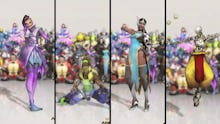 Ahead of Overwatch's Anniversary event beginning on May 23, Blizzard is finally starting to reveal exactly what kinds of new cosmetic items fans can expect. Earlier on Thursday, Blizzard revealed three new arena maps, and now it's showing off some slick new dancing emotes, too.
Here's what to expect.
Overwatch Anniversary event: New dance emotes on the way
The video (embedded below) reveals new dance emotes for four characters: Sombra, Lúcio, Symmetra and Zenyatta.
It's unclear whether other characters will be getting dance emotes, too, or if the characters in the video embedded above are the only ones who will have the chance to boogie once Overwatch Anniversary begins.
And, for those of you clamoring for sitting and laughing emotes for Overwatch's newest heroes, Sombra and Orisa, don't worry: Those will be added to standard loot boxes once Anniversary drops, according to Polygon. Reaper will also be getting a new shrug emote as an homage to his snarky moment that fans loved in the Overwatch "Uprising" comic.
As Blizzard reveals more about Overwatch Anniversary, we'll keep you in the loop.
More Overwatch news and updates
For more on Overwatch, check out the rest of what Mic has to offer. Here is an essay about how Efi Oladele was a missed opportunity for Overwatch, a deep dive into the issue of sexual harassment in Overwatch voice chat, an unintentionally hilarious infographic showing the most popular Overwatch characters in each state, a criticism of Blizzard's failures in its design of Symmetra and a dive into a cool trend on Tumblr that converts your most-played heroes into a psychedelic illustration.