'Madden 18' Story Mode: What to expect from EA Sports' new single-player feature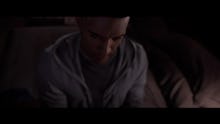 The new story mode in Madden 18 hasn't been officially revealed, but it doesn't take a genius to catch the hints EA Sports is throwing in the debut trailer for the game.
Watch the end of the trailer below and you'll see what looks like an opening cut scene for a story mode similar to "The Journey" in FIFA 17.
Even though there's almost no confirmed information to analyze, EA's history and the aforementioned segment of the trailer gives us a few concepts to look forward to once Madden 18 releases in August.
Madden 18 story mode: The NFL combine will probably be included
The player in the trailer is in a hotel room across the street from Lucas Oil Stadium in Indianapolis. That's where the NFL combine is held every year. 
It appears the cut scene captures the player on the eve of his NFL journey.
Madden 18 story mode: You may not be able to create your player
The feel of the trailer is very similar to "The Journey." In FIFA 17, the story was centered around Alex Hunter; there was no option to create a custom character.
Some may frown on that restriction, but it's not necessarily a negative. "The Journey" and Fight Night Champion's Champion Mode worked because they told a compelling story about an interesting character.
Allowing you to customize the character would have disjointed the story. Sometimes, it's better when game developers have a mode that isn't customizable.
The customization can be left for modes like Ultimate Team and franchise mode.
Madden 18 story mode: Player lock and traditional play
In FIFA 17's "The Journey," you can play as Hunter or control all 11 players on the team. It's a safe bet the same structure will be available in Madden 18's story mode.
This could be an attractive option for those who prefer traditional play but still want to experience the story.
On June 10 at EA Play, more information will be revealed about Madden 18. Many of the questions about the game will be answered.
More sports gaming news and updates
Love sports games? Check out more content from Mic, including tips for leveling up your NBA 2K17 MyPlayer, playing quarterback in Madden 17, our review of MLB The Show 17 and the classic Nintendo sports games we want to see on the Switch